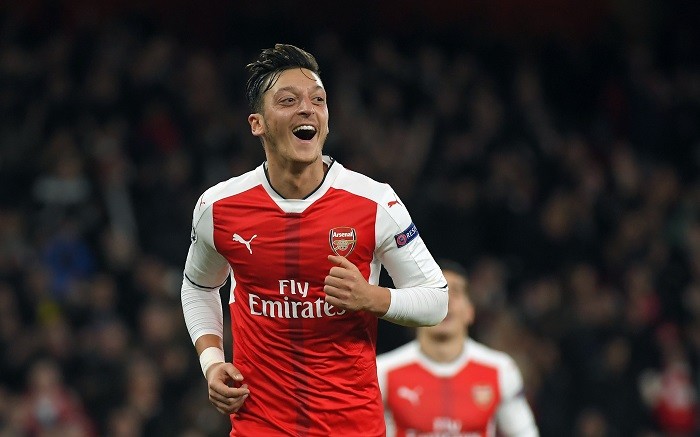 Arsenal are now only a win away from getting to that 10-point mark, which more often than not guarantees qualification into the Champions League last 16, after the Premier League side put on a show at the Emirates. Mesut Ozil was the man of the moment, scoring his first career senior hat-trick in a 6-0 thumping of Bulgarian side Ludogorets.
Coming off a nervy win over Swansea City, where Arsenal time and again invited their opponents back into the game, there was pressure on the home side to put in a much more assured performance. They certainly did that, with Alexis Sanchez opening the scoring with a wonderful man-that-was-cool chip, before Theo Walcott and Alex Oxlade-Chamberlain, either side of halftime, put the match to bed.
Ozil, in a rich vein of form in front of goal, then stamped his mark on the game with a second half hat-trick as Arsenal picked up a second impressive victory in the Champions League this season.
"In the first half it looked like a difficult game because they were dangerous going forward," Arsene Wenger said. "They had good technique in short spaces, they are quick on the counter-attack and it was not easy.
"We took complete control of the game in the second half and we could've score more because they had given a lot in the first half. They suffered a little bit physically in the second half.
"It's funny because the more goals we scored, the better we defended. In the first half it's true that we were sometimes in danger with runs coming from deep. The strikers came into midfield, flooded the midfield and got them out of pressure. Then we were in trouble twice. We'd like to give credit to (David) Ospina who saved us twice with very important saves."
What troubled Wenger the most last season was Arsenal's lack of efficiency in front of goal. Chances would be created, openings would come, but either the final ball or the finish would go awry. There have been no such problems this season and this 6-0 victory was testament to that fact.
"The confidence is high, we have a good balance at the moment in the team and maybe it's because we've been making more of our chances," Wenger added. "The final ball is better. Is that because our finishing is better? It's difficult to analyse at the moment, but what is for sure is that we score more goals.
"We score lots of goals. That's what our game is about. We have a risky game and therefore it's important that we take our chances."