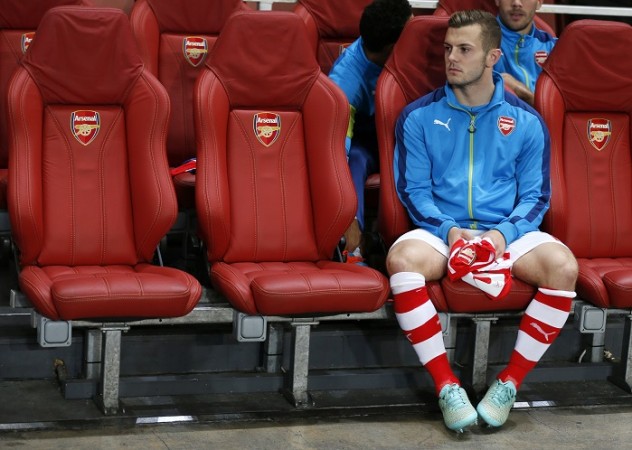 Arsenal boss Arsene Wenger has confirmed that Jack Wilshere will be unavailable during his side's FA Cup quarter-final clash against Manchester United on 10 March.
Wilshere, who has been on the sidelines since November after an ankle injury during the Gunners' 1-2 loss to Manchester United, started from the bench during Arsenal's clash against Crystal Palace on 21 February.
However, the 23-year-old did not feature during that game, and later Wenger revealed that the midfielder would be undergoing a minor surgery on his ankle.
Wenger initially stated that Wilshere would be taking a "few days" to recover from the surgery.
"He's doing well but it takes some time to heal the wound after the surgery. It will take him a few days," Wenger told Arsenal's official website.
However, after being asked how much is exactly a "few days," the Frenchman confirmed that Wilshere will be on the sidelines for at least a week and will be missing the Gunners FA Cup clash against Manchester United.
"I cannot set any date, but what is for sure is for Manchester United he [Wilshere] will not be available," according to the Express.
On a brighter note, Aaron Ramsey may be making his comeback against QPR on Wednesday after Wenger confirmed that the Welshman has returned back to the squad.
The Frenchman also revealed that Francis Coquelin, who sustained a broken nose during Arsenal's 2-0 win against Everton on Sunday, may be available for selection against for the Gunners' midweek Premier League clash against QPR.
"Aaron Ramsey is back in the squad. From Sunday against Everton, I don't think we lost anybody. We have to check Francis Coquelin with the medical people this morning in training to see whether he'll be available or not, but there's no obvious reason why he should not be available," he said.
Meanwhile, Wenger highlighted the importance of Ramsey presence in the squad, insisting that the Gunners have missed the Welshman's abilities on the pitch.
"We've missed his energy level, his transitional play from offence to defence and from defence to attack, and his box-to-box quality," he added. "With a repetition of muscular injury it can put a little bit of a handbrake on your body, and to get rid of that is a psychological problem. Looking at him in training, I don't think he suffers from that, but you lose a bit of confidence in your body."