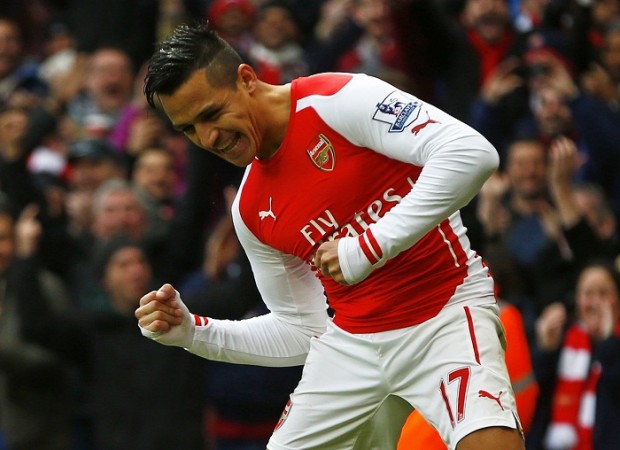 Arsenal manager Arsene Wenger has confirmed that Alexis Sanchez will not be available during the Gunners' north London derby clash against Tottenham Hotspur on Saturday.
The 26-year-old Chilean, who has been in top form for Arsenal since his £35 million switch from Barcelona last summer, had picked up a hamstring injury during the Gunners' 3-2 Brighton and Hove Albion Albion in the fourth round of the FA Cup on 25 January.
Since then, Sanchez has been on the sidelines, missing out during Arsenal's 5-0 win over Aston Villa Premier League last weekend.
The Chilean was expected to feature against Tottenham Hotspur, but Wenger has confirmed that the forward is still on the sidelines recovering from the hamstring injury.
"Alexis is not ready," Wenger told the Arsenal website. "He is not far away, the Leicester game (on Tuesday) is a possibility. He is of course very difficult to keep quiet! He is training but it's light training."
The absence of Sanchez will probably mean that Danny Welbeck, who has finally returned after spending a month on the sidelines due to a thigh injury, will be handed a start against the Spurs on Saturday.
Meanwhile, Per Mertesacker says that he is looking forward to facing rivals Tottenham Hotspur on Saturday, insisting there is nothing better than the "special atmosphere" during the north London derby.
"It's a special atmosphere in both grounds, a special atmosphere from the supporters' side, so we have to realise that," the German defender told Arsenal Player.
"It comes very quickly into your mind that it's a special game for everyone at this club, so you better get on with it quickly otherwise it will hurt you."
Although Arsenal emerged victorious in all three fixtures – two Premier League games and a FA Cup clash -- against the Spurs in 2013/14, they were only able to record a 1-1 draw against Tottenham at the Emirates in the reverse fixture at the Emirates in late September this season.
And Mertesacker insists that he does not want to give Tottenham "any chance" to come out on top at White Hart Lane on Saturday.
"We did well especially last season - we won all our games - so let's focus on not giving them any chance."
However, the German centre-back insists that the Gunners need to be very solid at the back if they want to beat Mauricio Pochettino's men on Saturday.
"We know from recent years that defensive unity is vital especially against our north London rivals, so we have to be really cautious on the defensive front."