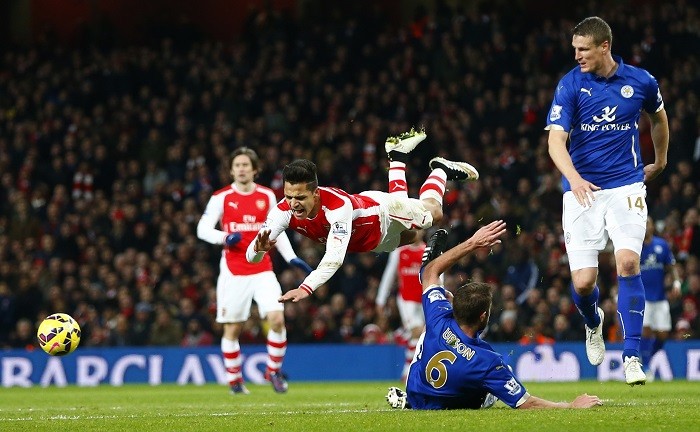 Arsenal are reportedly facing fresh injury concerns after both Alexis Sanchez and Aaron Ramsey picked up knocks during the Gunners' 2-1 win over Leicester City on Tuesday.
Sanchez returned to the squad after missing two Premier League fixtures against Aston Villa and Tottenham Hotspur due to a hamstring injury he sustained during Arsenal's 3-2 win over Brighton and Hove Albion in the fourth round of the FA Cup last month.
However, the Chilean was taken off in the 68th minute by Arsenal manager Arsene Wenger, who has confirmed that the former Barcelona man has "got a knock on his knee."
"Sanchez got a knock on his knee. I don't think he was himself. From the moment he got this knock, he was never really comfortable," Wenger told Arsenal's official website, adding that he is yet to discover the extent of the 26-year-old's injury.
"I don't know for how long he will be out and whether he will be out or not. I haven't seen the doctor."
"I was ready to take him off at half-time but he said, 'No, it's OK, I can go on.' When I watched him play I thought, 'No, that hasn't [got better].' Sometimes when you run it off it's just a kick but he became worse and I didn't see him in the second half."
Ramsey, on the other hand, was brought in as a substitute in the 73rd minute, but had to be replaced after only nine minutes.
On being asked whether the 24-year-old again seemed to have a problem with his hamstring, the Frenchman replied: "It looks like it. I don't know how bad it is yet. Just visually, it didn't look good. When a guy stops straight away and sits down, that's not good news."
This is the third time this season that the Welshman has suffered from a hamstring problem, and Wenger admits that Ramsey's persistent muscular injuries is a bit of a worry.
"There's a recurrence now of a few muscular injuries and it's difficult - we haven't found out why. I basically left him out today because I wanted to be cautious with him. I had to bring him on - I had a hesitation between [Mathieu] Flamini and him - because we lacked a bit of offensive power. It was not the best of decisions."
"Last year was a thigh but this year it's a recurrence of hamstrings. You cannot say it's no worry because after the player doesn't play with the freedom in mind."