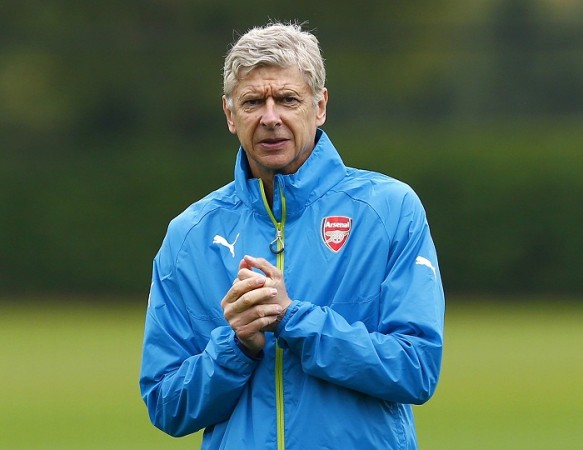 Arsenal manager Arsene Wenger has confirmed that Jack Wilshere is a big doubt for the Gunners' Champions League clash against Monaco on Wednesday after he was rested in training.
The 23-year-old midfielder has been out of action since November after suffering an ankle injury, which required surgery. Although he started from the bench during the Gunners' recent 2-1 win over Crystal Palace in the Premier League, he did not make an appearance during the game.
And now Wenger says that Wilshere might not be featuring against Monaco after confirming that the midfielder was rested during training on Tuesday.
"The only uncertainty I have at the moment is Jack Wilshere but everybody else is available. He was rested [at training], because he trained hard until now. No, it's not a setback but I don't think [he'll play against Monaco]," Wenger told Arsenal's official website.
Apart from Wilshere, the Gunners will still be without the services of Aaron Ramsey (hamstring), Mikel Arteta (ankle), Abou Diaby (calf) and Mathieu Debuchy (shoulder) as they are still recovering from their respective injuries.
However, the good news is that Alex Oxlade-Chamberlain has returned to training after shrugging off a groin problem. Goalkeeper David Ospina is also back after recovering from a knock he picked up during the Gunners' 2-1 win at Selhurst Park last weekend.
Meanwhile, Wenger dismissed notions of Arsenal being the favourites against Monaco and insisted that it is a "50:50 game" and his side will have to "work very hard" to get a positive result.
"I don't know if we are favourites or not, for me it is a 50:50 game," the Arsenal manager said. "Every time we have been in there it was hard-earned wins. It is always a one-goal difference - you go out for one goal, you stay in for one goal and that means you have to work very hard."
Arsenal have failed to qualify beyond the last sixteen stage of the Champions League in the last four seasons. And Wenger says that the Gunners have learnt the importance of away goals in Europe.
"What has happened in the last four years is that we have gone out twice against the winners of the competition. What we have learnt is that it was on [away goals] or because of one goal, which shows you that every single minute of these games will be absolutely massively important. We have gone out, yes, but only just. We want to stay in, even if it is [only] just."
"In the last four years we always came out frustrated because three times we conceded a goal at home in the first 30 minutes. That goal knocked us out. It was really tight. We have learnt from that and we can show that on Wednesday."