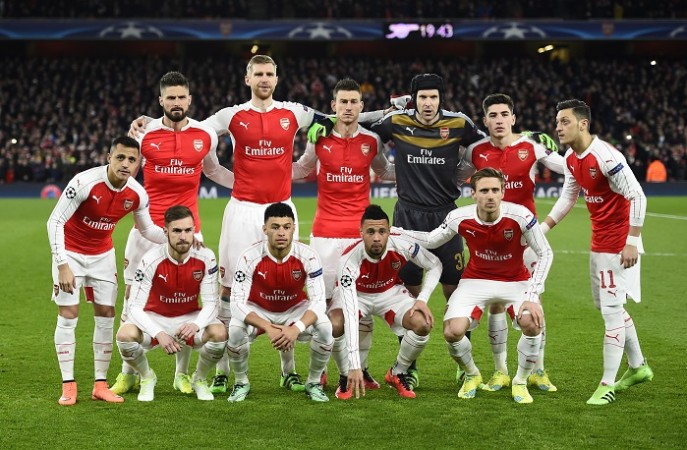 Arsenal will look back at Tuesday's last 16 first leg defeat to Barcelona and wonder what might have been, like they have done so often at this stage of the UEFA Champions League. But then, this time, an early Champions League exit – and, after all, it is to the champions and the best club team in the world at the moment – might not be such a bad thing.
For the first time in several years, Arsenal look capable of winning the English Premier League. The league leaders – Leicester City – have absolutely no other distractions, and as a result stand the best chance of staying at the top of the standings come the end of the season.
Arsenal have this Champions League tie against Barcelona as well as the FA Cup to worry about – complicated further by having to play a replay against Hull City – and that means, even with most of their injured players coming back, the squad being stretched as the season reaches its business end.
With this Champions League tie now decided – and it is, because there is no way Arsenal are scoring two-three unanswered goals against Barcelona at the Camp Nou – Arsene Wenger can turn his focus on the Premier League.
Yes, there is the FA Cup to worry about, but with Wenger resting most of his players for that competition anyway, Arsenal can now just concentrate on winning their first Premier League title in 12 years.
Since those "Invincibles" created history in 2004, Arsenal have threatened to challenge for the title, before fading away. The past decade under Wenger has seen one of the two patterns – either Arsenal make a great start and go top of the standings in the first half of the season, before falling out of contention, or they make a strong run in the second half of the season, with the title well out of their grasp already.
Usually, that wretched run of results is as a by-product of a slew of injuries, but Arsenal coped with that particular problem quite well this time. Despite losing their top spot, Arsenal have hung in there, and with almost everyone expected to come back by next month, there really are no excuses this time.
Great teams are judged by how they handle pressure, and the difference this time in the title run is that, Arsenal are expected to win it. With Manchester City seemingly losing focus after that Pep Guardiola appointment, and Leicester and Tottenham quite inexperienced in terms of competing at the top, Arsenal are the team who should hold their nerve best.
In fact, Leicester and Tottenham, especially, find themselves in the position Arsenal usually are in -- playing good football, and looking capable of winning the title, but with that question of "will the pressure take hold" hovering around.
The onus, really, with the Champions League now seemingly out of the question, is on Arsenal to take this title race by the scruff of the neck. They did that in the last round of Premier League matches by beating Leicester City in dramatic fashion. With away games against Manchester United and Tottenham to come in quick succession, Arsenal cannot afford another nearly-moment, another glorious-yet-oh-so-insufficient title run.
They should be the team that everyone wants to beat, but are wary of in the next 12 matches. That strut needs to come out, that attacking nous, which has gone missing for large parts of this season. With attacking talents like Mesut Ozil and Alexis Sanchez in the team, there really is no reason why Arsenal should be struggling to score goals.
Make a statement, start firing in the goals left, right and centre, and maybe then Leicester and Spurs will start to feel the pressure. Because, at the moment, you feel the top two of the Premier League are playing carefree, we-are-very-much-in-our-comfort-zone football. Getting them out of that comfort zone by putting on a run and a series of outstanding performances is what is required from Arsenal's point of view.
Arsenal have the talent to do that, but do they have the mentality? Time will tell.