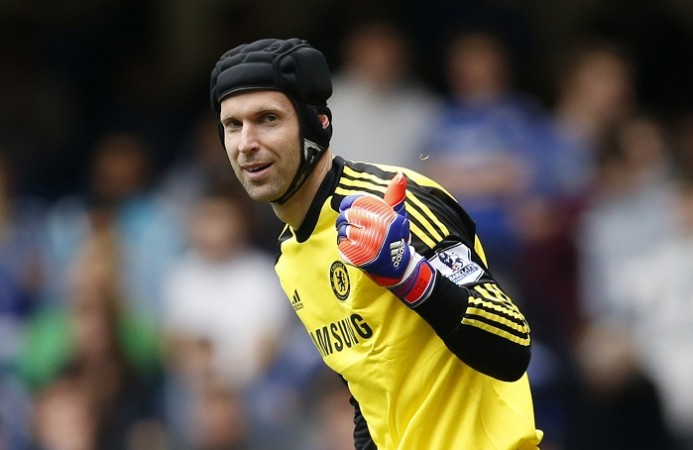 Arsenal have completed, as good as completed, or will complete a move for Petr Cech, depending on what newspaper or website you read.
What does look almost certain, though, is that Arsenal look increasingly likely to get their man, with the Daily Mail and the Daily Mirror claiming a move is complete.
The Guardian and the BBC go on to report a transfer for Cech from Chelsea is really close, pointing to the fact that within the next few days that official announcement on the Arsenal website is likely.
Arsenal have been in pursuit of Cech ever since the season ended and it became clear the Czech international goalkeeper was looking to leave Chelsea this summer.
Cech was usurped by Thibaut Courtois in goal last season, and while Chelsea enjoyed a successful campaign, the 33-year-old is just too good a goalkeeper to be second choice.
As a result, a departure was imminent, and with Roman Abramovich staying true to his promise of allowing Cech to sign for a club of his choice, Arsenal have swooped right in, owing to the fact that the goalkeeper wants to stay in London.
Jose Mourinho, the Chelsea manager, is clearly not happy at the prospect of Cech joining a direct rival, but the final call has been taken by Abramovich, which in this world of cut-throat competition is quite commendable.
While a couple of reports suggest Cech to Arsenal is a done deal – the Mirror and Daily Mail claim the fee will be £11million – Cech's management company tweeted saying those reports might be a touch premature.
"As we told you, No transfer deal has been done yet for @PetrCech - as soon as any news @PetrCech will confirm," Sports PR Company tweeted, with Cech retweeting the tweet soon after.
While Arsenal are the kind of club that wait until the final moment, until all the Is have been dotted and the Ts have been crossed – Cech will reportedly sign a three-year contract worth £100,000 a week -- it does look like it will take a monumental collapse or a change of mind from Abramovich for this transfer not to go through.
If it does happen, though, Cech will likely face Chelsea in the Community Shield on 2 August – now that would be a tasty contest, wouldn't it.