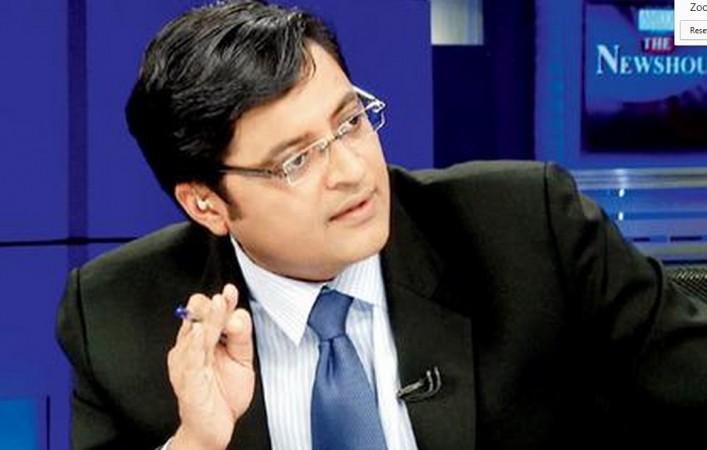 What if the Chennai Super Kings officials, on the team's return to the Indian Premier League next year, say Mahendra Singh Dhoni cannot play his signature helicopter shot when appearing for another franchise, claiming it to be their property?
It's speculative what Dhoni would do then, but at the moment, former Times Now editor-in-chief Arnab Goswami, is facing a similar challenge. The man, who is about to begin his new venture Republic TV, has reportedly been served a legal notice by his previous employer asking him not to use the phrase "the nation wants to know" on his new channel.
Also read: Times Group serves legal notice to Arnab Goswami over use of 'Nation wants to know' [VIDEO]
The phrase, which was made popular by Goswami during his intense Newshour debates on Times Now every evening, has been labelled by the Times Group, which owns the channel, as its intellectual property.
Goswami later confirmed he had recieved the notice, on an audio clip released on YouTube, though he did not name the sender. He also said the six-page notice threatens to send him to jail if he used the popular phrase. The journalist also hit back, saying: "Arrest me".
Neither Times nor Arnab want to lose the commercially viable phrase
This is perhaps an unprecedented development in the history of Indian journalism. Both Goswami and his former news channel know that the catch phrase "nation wants to know" has virtually become a business tagline, and the fate of their commercial success may depend on its usage. Neither party would want to lose the sharp legacy that "nation wants to know" has left in the mind of the Indian audience.
Arnab's cult of personality
The problem has been compounded by another factor and that is Goswami's personality. The Times Group has already lost the weighty presence of Goswami in its studio [good or bad, no one could ignore the man] and it now wants to cling on to the "nation wants to know" catchphrase to at least make use of Goswami's legacy. But will it be enough to convince audiences if Amitabh Bachchan's dialogue is delivered by Jeetendra?
The tussle is essentially a clash between two brands – an organisation and an individual. United, they led the market, but divided, uncertainty looms before both and in such a scenario, both sides are trying to cash in on the fearless face that the phrase "nation wants to know" personifies.
It will be interesting to see how the people accept a fight that is ostensibly for intellectual property, but actually for the ownership of 'fearlessness' – a cult Goswami masterminded during his decade-long stay in Times Now. Who owns that cult now is the question.
Indian audiences more likely to back Arnab — the Amitabh Bachchan of Indian journalism
Given the nature of Indian audiences, Goswami looks the favourite to win this race. The people of this country love personalities: Be it in politics, film, or sports, individuals have always dominated the public psyche more than the collective, and it is unlikely that things will be different in journalism.
The Times Group wanted to show who the boss was when an official of the Times Network told a website: "Nation Wants To Know is a catchline used by Times Now for years. It differentiates us from [our] competition and is also an integral part of our identity. The same has also been filed by us for trademark registration. In January 2017, a little-known media company tried to file for the same and subsequently, we served them a caution notice with our objection."
"Mere Paas Arnab Hain"
But calling Goswami's new channel a "little-known media company" might not earn the Times Group much traction here. Just like Bachchan's heavy voice was tamed by a lesser Shashi Kapoor in Deewar when he said "Mere Paas Ma Hain", Republic TV can neutralise the Times Group's intimidation by uttering: "Mere Paas Arnab Hain". The rest will fall into place automatically.
The Times Group, as experts on intellectual property rights feel, will have to put in a lot of effort to prove that the "nation wants to know" is its exclusive right. On the other hand, Goswami is such a big star with Indian audiences now that one would connect the phrase more naturally with him than any other face. The problem is complex, but Goswami has the edge.
The nation would like to know who finally prevails in the battle.