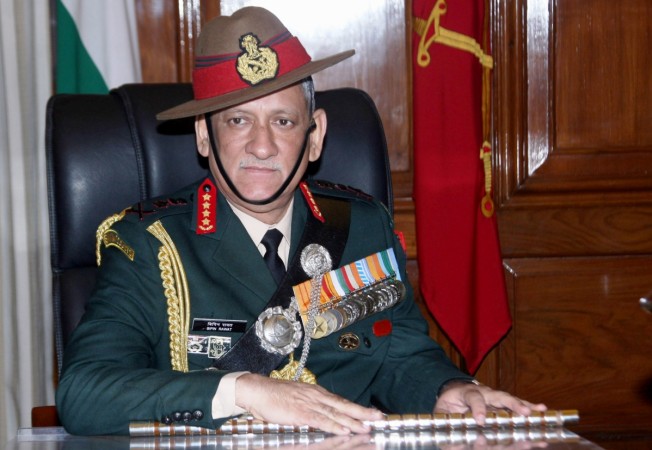 Talking tough about terror on Wednesday, Army chief General Bipin Rawat said that stone-pelters who disrupt anti-terror operations will be treated as "overground workers of terrorists" and those waving flags of Islamic State group or Pakistan will be treated as anti-nationals.
Also read: 3 terrorists killed, 1 soldier injured in encounter in Handwara district's Khan Mohalla
Soldiers will not hesitate to fire on youth for stone-pelting during anti-terror operations. Jammu and Kashmir Chief Minister Mehbooba Mufti had repeatedly beseeched people to not let the youth get involved in subversive activities.
"Those who obstruct our operations during encounters and aren't supportive will be treated as over-ground workers of terrorists," Rawat said.
However, the Mehbooba Mufti government is more focused right now on asserting Article 370 and by relation Jammu and Kashmir's sovereignty apart from the Indian Constitution than improving education and employment.
Rawat made the comments during the wreath laying ceremony for Major Dahiya and soldiers Dharmendra Kumar and Ashutosh Kumar, who died in recent encounters in the state this week. Prime Minister Narendra Modi also joined Rawat at the Palam airport in New Delhi unexpectedly. He landed at the airport when he learnt that the mortal remains of the soldiers had been brought there.
Rawat also briefed Modi about the encounters at Bandipora and Handwara.
More and more people over the years have tried to stop the Indian Army by pelting stones during counter-insurgency operations in J&K, which have also led to the escape of the militants, and led to increased casualty among the forces.
"There is a well-crafted policy, fuelled from across the border, to put pressure on our security forces by getting stone-pelting civilians to give cover to terrorists during encounters. We are reviewing our standard operating procedures, including the use of lethal and non-lethal force, while also targeting organisers of such mobs. Directions have also been issued to treat persons who help terrorists as accomplices," a senior officer was quoted as saying by the Times of India.
Defending the Army chief MoS Home Affairs Kiren Rijiju said, "What Army chief said is in national interest, anybody who acts against it will be treated as someone who has not done his duty."