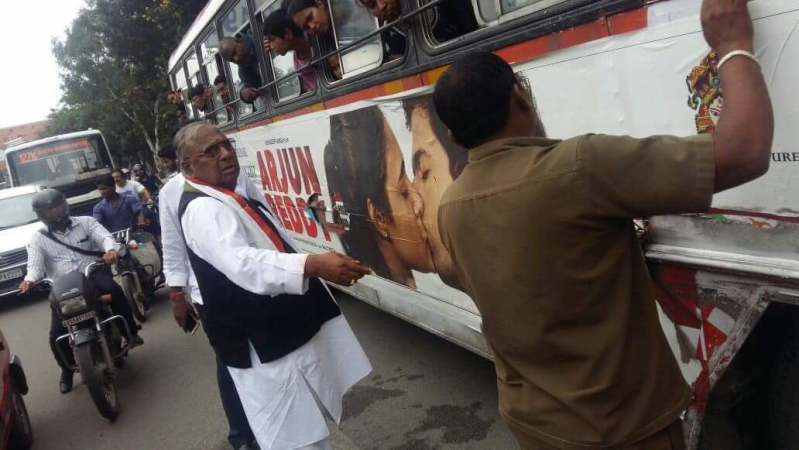 Ram Gopal Varma aka RGV might have quit Twitter, but he has not stop courting controversy. He was at it again when he took a dig at Congress leader V Hanumantha Rao over tearing the kissing poster of Arjun Reddy.
Arjun Reddy starring Vijay Devarakonda and Shalini Pandey is set to hit the screens on August 24 and the makers are promoting the film with the posters depicting the intense lip lock.
But this bold and steamy poster of Arjun Reddy featured on a TSRTC bus did not go well with former Congress MP V Hanumantha Rao, who went on to stop the bus on the Nampally road and tear the objectionable poster.
The photo featuring this scene has not only gone viral on social media but has also sparked a debate. However, the people from the unit of Arjun Reddy have kept mum on the issue.
Vijay Devarakonda, who is playing the title role in Arjun Reddy, declined to talk about the incident. "He (Hanumantha Rao) is an elderly person and I don't want to comment on him," Vijay Devarakonda told Deccan Chronicle, when quizzed about it.
However, Ram Gopal Varma, who often comes up against criticism against the film industry, seems to have decided to bat for the team of Arjun Reddy. The filmmaker made a fun of V Hanumantha Rao in a series of comments posted on his Facebook account. Here are his comments on the senior Congress leader.
My request to Vijay Deverakonda is to tear off the clothes of Hanumanth Rao but my fear is children might get scared seeing HR like that

I dint understand why Hanumanth Rao tore that poster..was he jealous because that beautiful girl was kissing Vijay Deverakonda or was it because HR himself would have never been kissed ? Just asking

Thathayya should ask his Manavallu and Manavarallu if they think anything is wrong with this poster ?

Thathayya, Arjun Reddy is for Manavalu and Manavaraallu and definitely not for prehistoric minded Thaatayyalu..Just chill

As your party became Thatayya, Now because of your childish things all peoples Manavalu and Manavarallu won't vote next and then because of you, your party will become double Thathayya

Since HR must have been born in the far outskirts of a remote interior village and wouldn't have had access to a slate and chalk I advise him to use a helper to translate this line of my advise to him that his mentality of tearing up Arjun Reddy poster can only originate from an extremely regressive and antediluvian Neanderthal mind set which even the archaic primates would find both medieval and obsolescent.