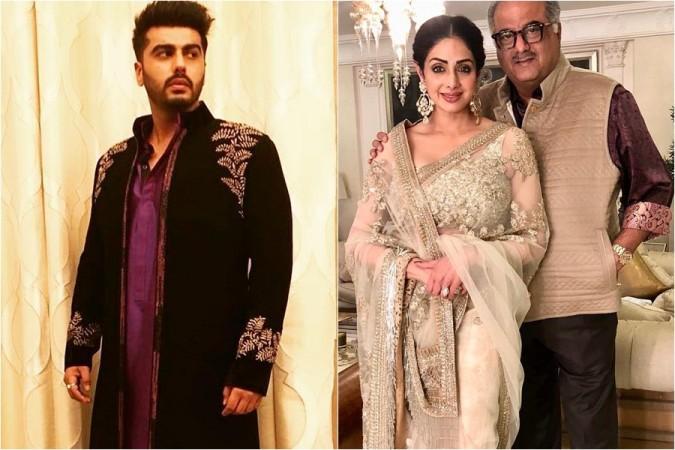 Boney Kapoor, daughters Janhvi and Khushi were devasted after Sridevi's unexpected death in February, earlier this year. However, they received strong support from Arjun Kapoor and sister Anshula Kapoor (children of Boney Kapoor from first wife Mona Shourie) who proved to be pillars of strength for their grieving father and stepsisters. They offered them a shoulder to cry on in the time of mourning.
Sridevi and Arjun Kapoor didn't share a cordial relationship with each other after the latter's mother died six years ago before watching her son's debut film Ishaqzaade which released in the same year. He reportedly held a grudge against her.
"I am sure I've had various degrees of emotions against her (Sridevi) and him (Boney Kapoor). I only look forward. I try to make it a point not to dwell on what could have (been), what should have (been)," Arjun Kapoor had said in 2014 when asked about his stepmother.
But after Sridevi's untimely death, Arjun Kapoor immediately left the shooting of his upcoming film Namaste England in Amritsar and flew to Mumbai to be with his father and stepsisters Janhvi and Khushi during the tough time.
Without giving a second thought, Arjun flew off to Dubai to help his father complete the final formalities to bring Sridevi's mortal remains back to India for cremation. He was also actively involved in the funeral arrangements.
Since then, Arjun and Anshula have been staying with Boney Kapoor, Janhvi and Khushi to help each other grieve their loss. They are now a happy family and it required only a single tweet for Arjun Kapoor to perfectly sum up his life after Sridevi's untimely death.
"Me & @anshulakapoor represent our mother every single second we live...she would expect us to have been standing next to our father no matter what n be there for Janhvi & Khushi," reads an excerpt from Arjun Kapoor's tweet.
Sridevi died at the age of 54 on the night of February 24 in a hotel room at Jumeirah Emirates Towers in Dubai. She was found dead with her body completely immersed in a bathtub. The Dubai Police, in the post-mortem report, ruled Sridevi's death as accidental drowning. There were traces of alcohol in her body, the report added. Her last rites were performed on February 28 in Mumbai.