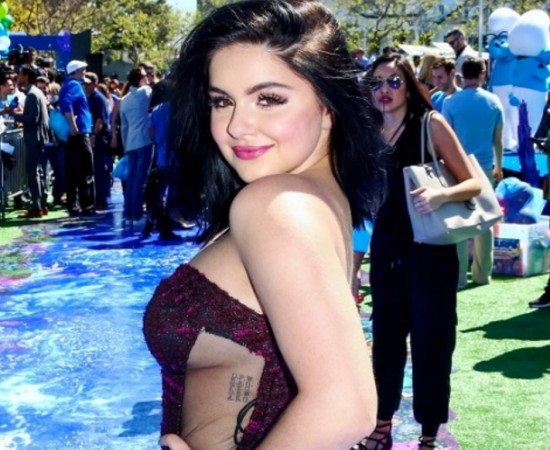 Modern Family actress Ariel Winter was a guest on Jimmy Kimmel show on Wednesday, where she flaunted her curves in a silver sheer dress that exposed her ample cleavage. The bodysuit underneath the sheer number helped Winter protect her modesty.
Also read: Is it too late now to say Sorry? Justin Bieber's lip-syncing at India concert receives flak
Winter opened up to Kimmel about her boyfriend Levi Meaden and gave audience a glimpse of her home life with the actor."Are you out mowing the lawn and cooking and doing all the stuff you do when you own a house?" Kimmel asked.
"My boyfriend and I live together, and he cooks. I can't cook at all. He takes care of all that handy stuff, he's great, he does all that," Winter explained. "I can bake a pie occasionally. Pumpkin and apple, I baked those two the other day. They were edible."
"I'm like the worst 'wifely' person," Winter joked. "Like I said, I bake those pies, he does everything else. It's great."
Winter was recently body-shamed by a section of netizens for wearing a revealing outfit to a Modern Family event. The other cast members of the show were dressed casually, and Winter's choice of a golden-coloured mini-dress did not impress many.
Body-shamers have been targeting Winter for a while now, and last year, she clapped back at haters via a Instagram post that spoke about self acceptance. "Those who say such harsh things on my Instagram, thank you for this opportunity — but the question I ask myself each time I read the mean comments is if this is how you talk to a stranger online, I can only imagine how cruelly you speak to yourself," Winter wrote, and asked her bullies to learn to love themselves.
"Stop the hate. Accept all that you are and know your flaws are what make you the PERFECT you," she said. "I love my fans and I love my bullies for what they truly NEED is love. Take the high road, there is less traffic. XO."