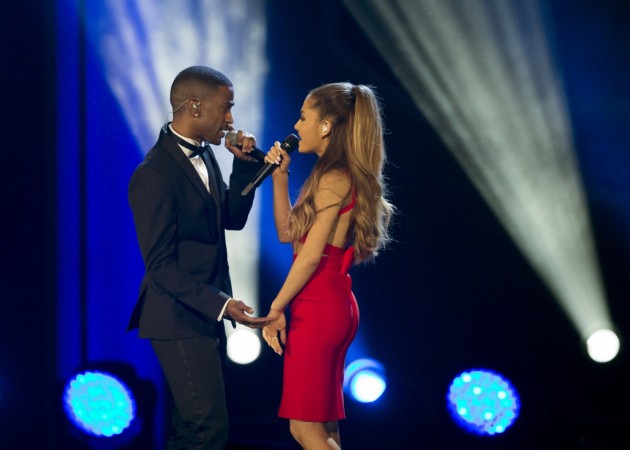 It has only been a month since Ariana Grande and Big Sean publicly announced the fact that they are an item. But things seem to be getting serious between the couple, as Grande's mom has already started treating the rapper as her son, a new report claims.
Grande's mom Joan gave the seal of approval on her daughter's relationship with Sean, as she was convinced that the duo loved each other sincerely, a source told Radar Online.
"Joan loves Sean because she knows that Ariana is safe with him," the source said of Sean, who has been a close friend of Grande's long before they started dating. "All she really wants for Ariana is to be with someone for the right reasons and she believes that Sean truly loves her, so Joan loves him."
"It has gotten very serious very quickly," the source said about Grande and Big Sean, who was earlier engaged to "Glee" actress Naya Rivera. Grande was previously linked to Jai Brooks, and The Wanted's Nathan Sykes.
Interestingly, this report follows another claim that Big Sean was losing interest in Grande, and reportedly several mannerisms of the pint-sized singer is already driving her beau up the wall.
For example, sources revealed to the media that Sean hates it when Grande constantly uses her baby voice with him. "Instead of saying. 'I'm thirsty,' she'll pout her lips and say, 'I want to dwink a widdle hoosh,'" a friend told Star, according to Oceanup. "Sean thought she was kidding at first, but now he's had it."
Although there are talks that Sean is losing interest in the "Problem" singer, several other reports also note that Grande and Sean are committed to making their relationship work. Speculations are also rife that Sean is getting ready to propose to Grande. However, it's too soon to say if there's any truth to these rumours.
"Ariana is becoming her own woman and he treats her with the respect that she deserves," said the Radar Online insider. "Sean does not tell her what to do, but he lets her do her own thing and shows her nothing but love and support."