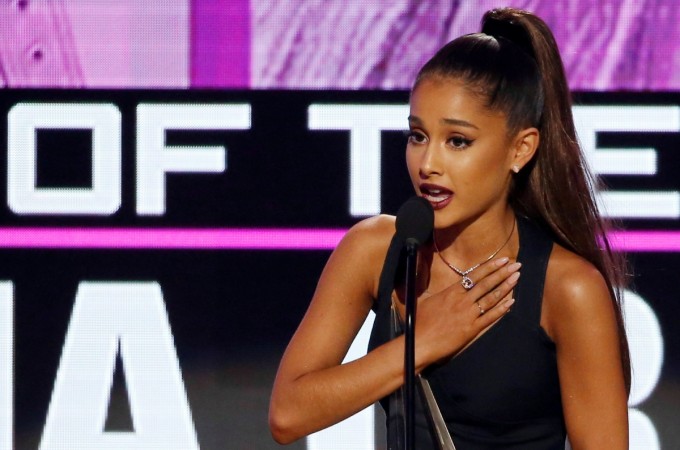 Ariana Grande and former fiancé Pete Davidson have been altering their tattoos signifying their relationship since they parted ways. Grande who is still mourning the demise of ex and late rapper Mac Miller recently replaced another one of her tattoos of Pete Davidson and the new ink work is inspired by none other than Miller's dog, Myron who is now the singer's pet.
Ariana replaced her tattoo of Pete's dad's FDNY badge number and displayed her new ink on social media. Taking to Instagram, the singer shared a story of the new art work with the caption, "Look at my Myron. Guys, look. How cool, right?"
Ariana recently shared a heartfelt tribute to Mac Miller on social media on the occasion of Thanksgiving Day.
Ariana had spent last Thanksgiving with Mac Miller as the two were dating at the time. So this holiday, the singer shared a screen grab of her Facebook post with Mac from Thanksgiving 2017 and captioned it, "You're missed." In the pic, the then-couple posed with their faces close together and wished fans a Happy Thanksgiving with the help of a Snapchat filter.
Ariana who was engaged to Pete Davidson at the time of Miller's death has been struggling with the loss of her former boyfriend. She has paid tribute to Miller a number of times on social media and even split from Davidson. As part of her grieving process, Grande has given Miller a shout out in her latest song, 'Thank U, Next', which is an ode to all her previous loves.
Grande recently defended herself after a fan accused her of taking advantage of Miller's death for publicity. "some of the sh*t i read on here makes me sick to my stomach. it scares me the way some people think and i don't like this world a lot of the time. if only we could be more compassionate and gentle with one another. that'd be sick," she tweeted. "everything i feel is valid and safe. everything i do is genuine and honest. there is no right or wrong during this period," another one of her posts read.