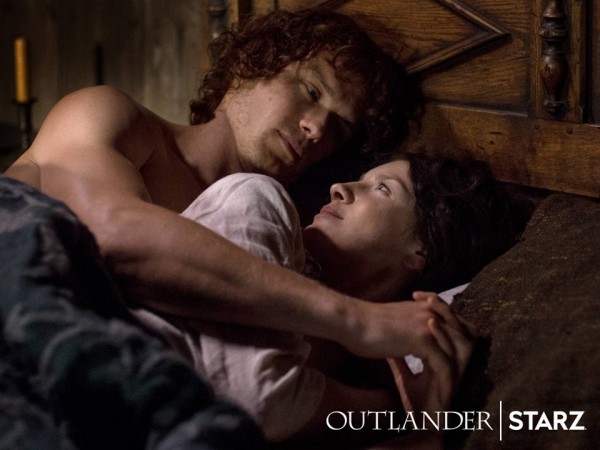 Romance rumours have been hounding Outlander stars Sam Heughan and Caitriona Balfe for a while now, and it gained momentum last week after the actress referred to Balfe as his "wifey" in a tweet.
"Congrats to the wifey and thanks to the strong fan vote!" Heughan tweeted after it was announced that Balfe won Poppy Awards' outstanding lead actress in a drama series.
Heughan and Balfe play husband-and-wife duo Jamie and Claire in Starz's time-travel series Outlander, which is based on Diana Gabaldon's book of the same name. Their on-screen chemistry has contributed immensely to the success of Outlander, and according to some reports, the sexual tension between the couple is evident off-screen as well.
Also read: Here are 5 things we can expect from Outlander Season 3
This has resulted in some of his Twitter followers urging the actor to seriously consider a romance with Balfe. Responding to the "wifey" tweet, a fan wrote: "You should really put a ring on it before someone else does. You sure are one lucky husband."
However, Balfe revealed in an earlier interview with E!News that she and Heughan are just friends.
"We're not together. It's funny. We've always said from the get go that we're incredibly great friends. And to have that friendship and that closeness and to be able to get along as we do on set, it's great that we're able to get along that well," she said.
"We're not together. I'm sorry to break people's hearts," she said, adding that it would be difficult for them to work together and be in a romantic relationship.
Heughan noted: "No, I think it's strange, isn't it? Because I think people buy into the show and us saying it's not real, they feel like they've been duped. It's like, 'You acted it. You lied to us!' And I'm like, 'Well, sorry!'"
Heughan and Balfe are currently busy filming Season 3 of Outlander, which is expected to have an early 2017 release. The third season is based on Gabaldon's Voyager, which will see Claire and Jamie reuniting after a span of 20 years.