World's most valuable technology company, Apple is hosting the annual fall event later this week. There's no price for guessing what the Cupertino-based firm will be unveiling other than the new generation of iPhones but a new information is out about a particular variant of the Apple mobile that will surely pique the interest of consumers of China and India.
Before Apple could make the official announcement, popular network carrier China Telecom's teaser has leaked online revealing that the 2018-series iPhone will have dual-SIM, a first in the history of a decade of iPhones.
As per the information on the promotional image, Apple iPhone will support dual 4G and dual standby. This means, both the SIMs will be active at all time and also offer super-speed internet and high-quality voice and video calls.
It is believed the LCD-based iPhone model, which is said to come with moniker iPhone Xc is the one showed in the poster. This is a huge deal for Apple fans in China, India and other emerging markets of Asia, Africa and Europe, where people have a liking for owning two SIMs.
Most developing countries have high competition among telecommunication providers, who in a bid to attract consumers offer lucrative tariff plans. This feature makes consumers own two SIMs –one for voice calls and other for data plans.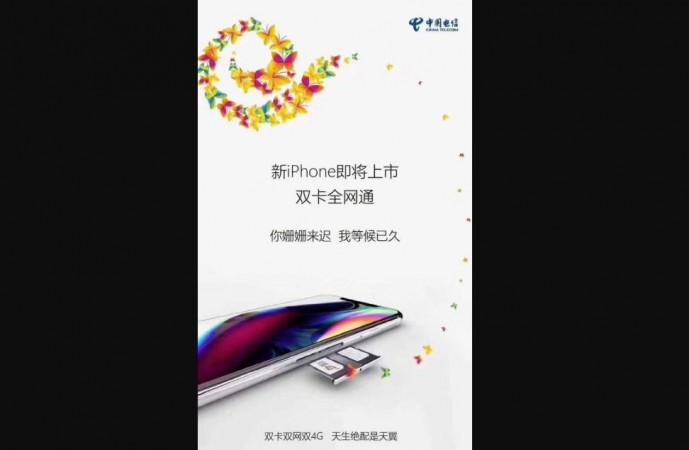 There are instances in China, where people deter from buying iPhones, just because the device doesn't come with dual-SIM option and exactly why Apple has not been able to make desirable inroads, while domestic Original Equipment Manufacturers (OEMs) such as Huawei, Vivo, Oppo and Xiaomi cash in on this Apple iPhone's lack of additional SIM capability.
If the China Telecom's poster is indeed true, Apple is certain to make a killing in the upcoming months. We are not sure if the company has any plans for other countries, but India is most likely to be part of Apple's plan, as it has been very vocal during investors meet on how much potential sub-continent to be the next revenue generator.
India is the second biggest market and the world's fastest growing smartphone market, where more than 500 million of the 1.3 billion population are yet to migrate from feature-phone to touch-screen based smartphone.
Apple 2018 iPhone series: What to expect
As per the information we have gathered so far, Apple is expected to unveil three new mobiles— the iPhone Xs Max, the iPhone Xs and the iPhone Xc (LCD).
For Apple, 2018 is the 'S' cycle year. It will keep the same design language as the original iPhone X(2017) but will bring incremental upgrades in terms of internal hardware particularly in terms of processor, battery and camera.
All three upcoming iPhones are expected to house a 7nm class Apple A12 processor, enhanced True Depth front-camera with FaceID capability. It will also be coming with a premium shell having a good blend of metal and glass. Inside, it will be incorporated with improved wireless charging coil for faster charging.
The top-end iPhone Xs Max is said to sport a huge 6.5-inch AMOLED screen and a bigger battery.
The generic iPhone Xs will be the true successor of the iPhone X (2017) and will retain 5.8-inch AMOLED screen size. Both the models will sport a stainless steel frame and glass on top.
On the other hand, the LCD-based iPhone Xc will be coming with 6.1-inch screen on the front and low-cost and yet sturdy aluminium-based shell with glass on top. It is said to come packed with a 2,600 (or 2700)mAh battery. It is said to be the most affordable of the lot and cost around $600 and $800 depending on the region of sale.
In addition to the iPhone XS series, Apple is tipped to showcase a new line of Watch (Series 4) and iPad Pro (2018) with wider display, faster & powerful processor and big battery capacity.
The company is hosting the Apple Special Event at 10:00 am PDT (10:30 pm IST) on September 12 at Steve Jobs Theater in Apple Park.
Stay tuned. Follow us @IBTimesIN_Tech on Twitter and on Google News for the latest updates on Apple.