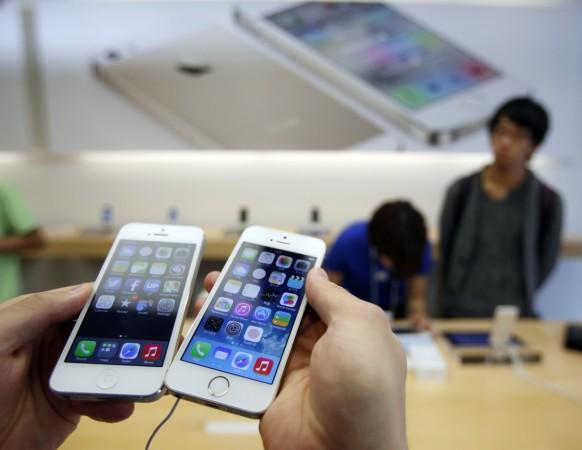 Apple is rumoured to launch in March a new 4-inch iPhone, which was said to be called iPhone 5se, but a new report suggests the handset will simply be called iPhone SE. This will make the new iPhone the first in the company's portfolio without a number in its name and a disrupter in the company's annual upgrade cycle.
According to 9to5Mac's Mark Gurman, citing sources familiar with the company's plans, the SE in the upcoming 4-inch iPhone stands for "Special Edition." The sources added that the iPhone SE would simplify the iPhone lineup, considering the company's current nomenclature is in the "6" series and adding the number "5" in the next iPhone could only lead to confusion.
The iPhone SE will succeed 2013's successful flagship iPhone 5S, which was the last to have a 4-inch display. Starting 2014, Apple shifted to larger screens, measuring 4.7 and 5.5 inches, in the iPhone 6 and 6s series. But the iPhone SE will offer an alternative to those who are stuck on iPhone 5S.
The iPhone SE will reportedly replace the iPhone 5S, with major improvements on both hardware and software levels, but will sell on a similar price point, 9to5Mac reported. Rumours suggest the iPhone SE will be powered by an A9 processor and include features like always-on Siri, NFC for Apple Pay, Bluetooth 4.2, VoLTE, and 802.11ac Wi-Fi.
The iPhone SE is said to come in 16GB and 64GB variants in the Rose Gold colour borrowed from the latest iPhone 6s series. On the camera front, the iPhone SE will sport an 8MP primary camera with Live Photos support and 1.2MP Facetime camera.
The iPhone SE will also feature a new design, which will be similar to the iPhone 6 and 6s series, a recent report said.
Apple's new iPhone SE is expected to be launched at an event March 15 alongside a 9.7-inch iPad Pro and not iPad Air 3. The Cupertino-based tech giant is expected to commence sale of the new products from March 18.