As promised, Apple released the much-awaited watchOS 5 to the Watch series. It comes with a truckload of features including the activity sharing, enhanced Siri, Walkie Talkie capability and several more, which we have detailed later in this post.
The new watchOS 5 is available to the Watch Series 1, 2 and 3. It is being rolled out in phases, so might take a few hours depending on the network connectivity of your area. You can manually check for the software update on your connected iPhone. Also, it will only upgrade to the new watchOS only if your iPhone runs the latest iOS 12 update, which by the way is also being rolled out as we speak.
Here's how to install watchOS 5 on your Apple Watch:
Step 1: Go to Watch app on your iPhone >> tap General>> Software Update>> check for the update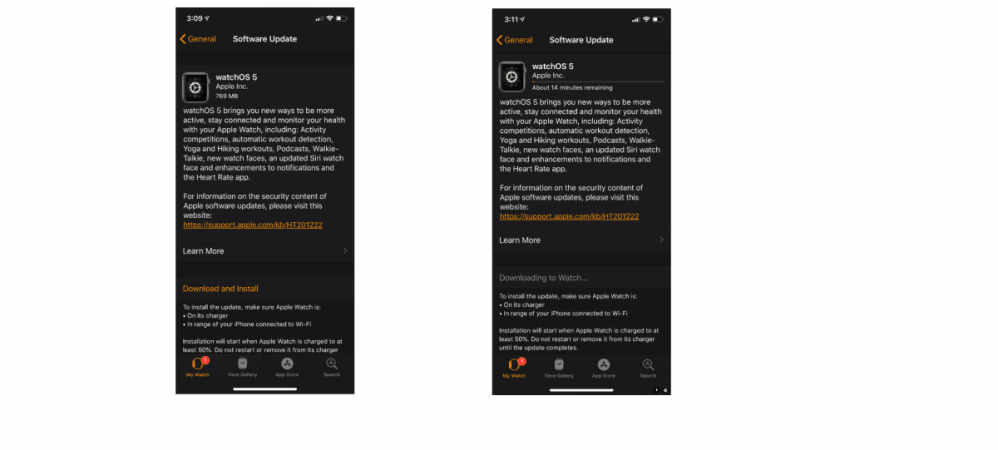 Step 2: You will get a prompt to download and install>> accept it
Step 3: Once the accepted, it will take a few minutes to download and initiate the installation procedure.
Note: Make sure the Apple Watch is on the Charging pad during the entire installation procedure and also make sure it is near the companion iPhone connected to Wi-Fi.
Step 4: Once the installation is done, don't forget to try the new Watch Faces—Solar System, Fire and Water, Vapor, Breathe and Liquid Metal—from the Face Gallery
Apple watchOS 5: Top 10 key features you should know
Activity Sharing:
The company's new watchOS v5.0 brings new features to Activity Sharing, which enables users to invite another Apple Watch wearer to compete in a seven-day Activity competition, earning points for closing Activity Rings, while receiving coaching notifications to help stay engaged and win the week.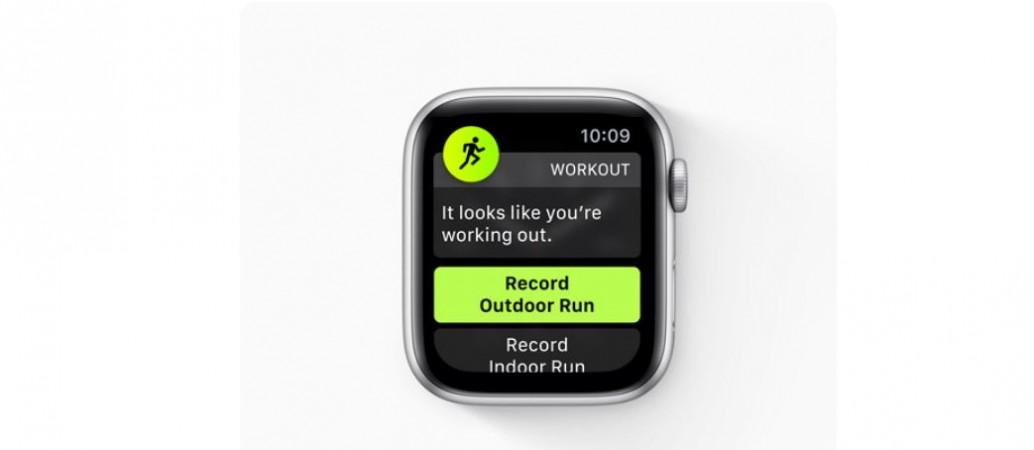 Auto Workout detection: This is an intuitive feature, which will definitely come in handy for an absent-minded persons who keep forgetting to switch on the running mode whenever they go for a jog and then realise that the device was not on after the completion of the workout. It's frustrating, not knowing how much one has run and burnt calories at the end of the workout. Now, the watchOS 5 will bring the auto-workout detection, which provides an alert to start the correct workout and gives retroactive credit. This feature also offers a reminder to end workout sessions after a period of inactivity, if the user forgets.
Walkie-Talkie: This feature enables the user to communicate with voice or with just a tap on the wrist. This new watch-to-watch connection is fast, personal and can be activated between any compatible Apple Watch users around the world over Wi-Fi or cellular, the company said.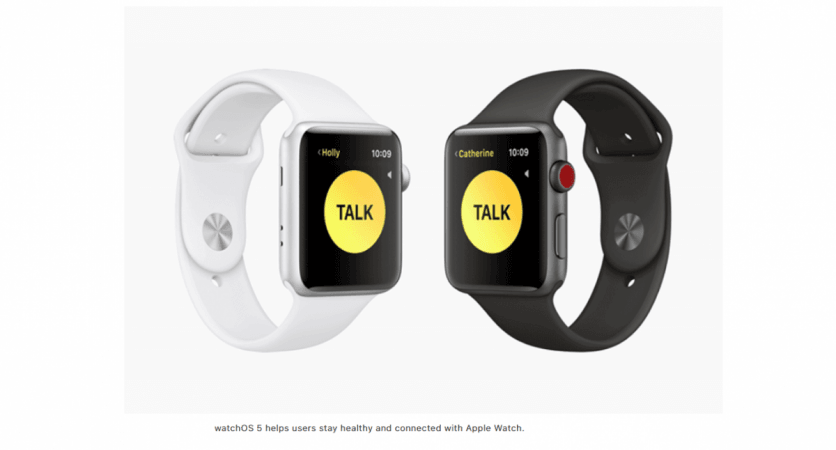 Improved Siri: New watchOS 5.0 also brings improved Siri with predictive and proactive shortcuts throughout the day based on routines, locations and information such as heart rate after a workout, commute time with Maps at the appropriate time of day or sports scores for a favourite team. The Siri watch face will also show actionable content from favourite third-party apps such as Nike+ Run Club, Glow Baby and Mobike.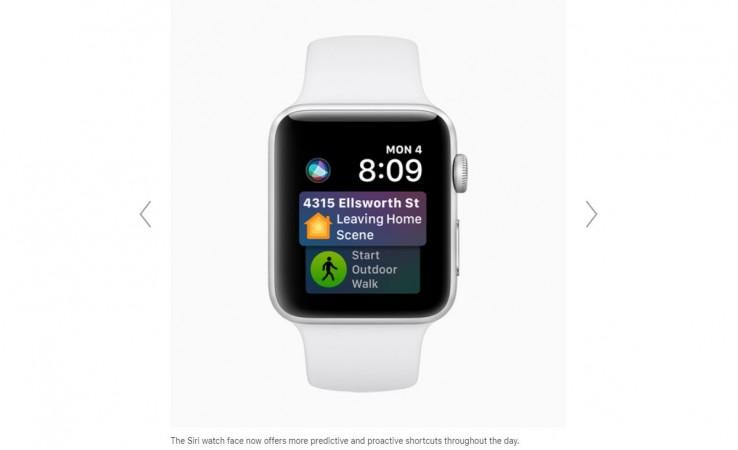 Apple Watch is your new ID: The company in collaboration with college universities has come up with a new feature for WatchOS 5 that lets students sync their ID to Watch. Going forward, they can just wave their wrist to gain access to the college premises including the library, dorms and events, and pay for snacks, laundry and dinners. They just have to add their ID details to Wallet on Apple Watch. However, this will be limited to select schools in the US.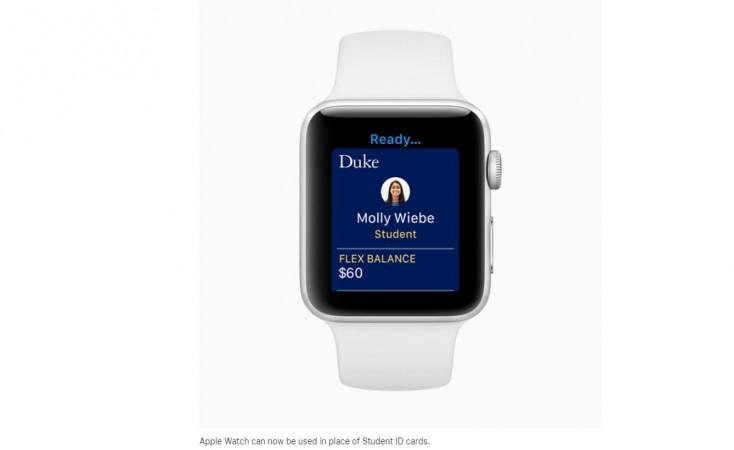 Podcasts: For the first time, watchOS 5 brings the Podcasts to Apple Watch. Users can stay connected to the stories, personalities and news they love.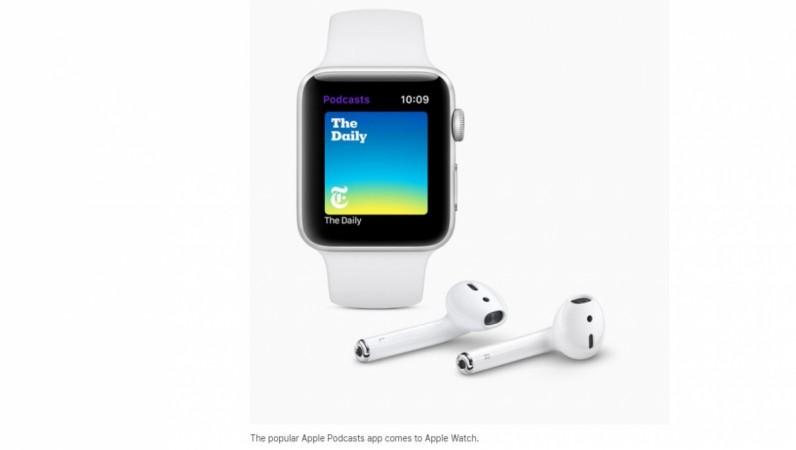 Improved notifications: With the new watchOS 5, users can respond right within notifications from many of their favourite apps. They can change the time and party size for their upcoming reservations and other stuff. Like in the iOS 12, the new watchOS will group all notifications from the same app together. So users need not waste time scrolling through the messages and be able to see more in small confines of the Watch display.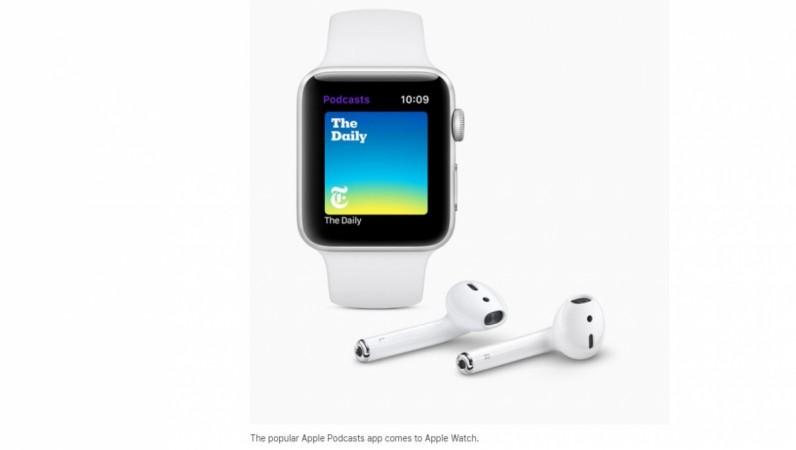 View web content: For the first, users will be able to view web content on the watch display. If you get a message containing a website link, just tap it for a view that's optimised for the watch's smaller screen.
Pace alerts: Once you a choose a target pace, Apple Watch will tap you on the wrist to let you know if you're behind or ahead of where you want to be.
New Watch Faces: Apple has also added a new set of watch faces including— Solar System, Fire and Water, Vapor, Breathe and Liquid Metal. They are really cool, you should definitely check them out.
Stay tuned. Follow us @IBTimesIN_Tech on Twitter and on Google News for latest updates on Apple.