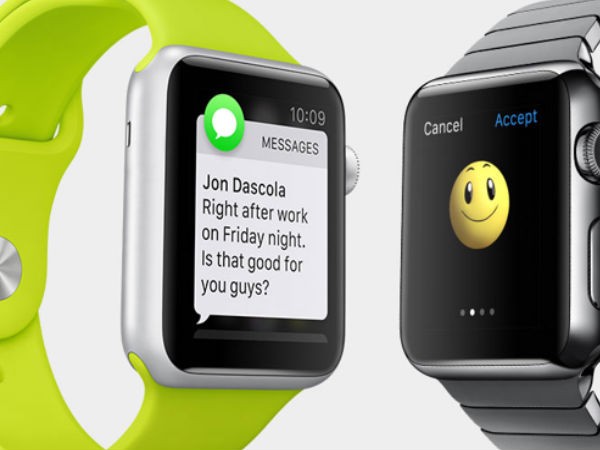 The wearable tech market, safe to say, is still in its nascent stages. Wearables haven't been around for a long time and it will still require more time for it to fully bloom. There are already several Android Wear-based smartwatches in the market, but all eyes are peeled on what Apple will offer with its new Watch.
Apple, as of now, is set to launch its highly awaited Watch in April. However, a new Wall Street Journal report now states that Apple' first ever wearable will arrive without a number of health features that Apple had originally planned for the smartwatch at launch.
The report claims that features such as the ones for tracking stress levels and blood pressure were extremely multifaceted to be implemented into the Watch. On the other hand, there were other sensors that couldn't be implemented because the sensors didn't meet Apple's standards.
Apparently, the reason for this newly decided alteration came after sensors didn't provide correct readings, adds the report. The report also states that after the Apple team cut a few of the important health features of the device, the company was left wondering about the purpose of the watch, here on, to attract customers.
Apple's Watch, after the device was first showcased by the company, was expected to be released with an array of sensors for measuring blood pressure, heart activity and stress levels. However, going by the new report, it looks like these features are set to miss out from the first-ever iteration of the Apple Watch.
Nonetheless, Apple has decided to launch the wearable device this April with whatever health features it supports, apart from a few attractive features like heartbeat-based messaging and other related communication features, according to the report.
"Apple is gearing up for a strong start. People familiar with the matter said the company is asking suppliers in Asia to make five million to six million Apple Watches in the first quarter. One of those people said half of the first-quarter output would be for the entry-level Apple Watch Sports and one-third for the mid-tier model, which has stainless-steel casing and a watch face covered by sapphire crystal," WSJ stated in its report.
Apple demands a greater place in the entire tech fraternity. And although reports are claiming that the Cupertino-based company could let go of a few notable features from the first iteration of its Watch, it still feels it will do a decent job on release, and hence has asked suppliers in Asia to make five million to six million Apple Watches in the first quarter.
The report also states that the golden variant of Apple's Watch could sell for $4,000 or more. Stay tuned for more updates!