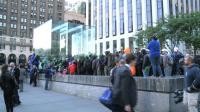 Apple Inc. emerges as the top seller of smartphones in China surpassing local manufacturer Xiaomi, as iPhone 6 sales surged higher after the device was launched in October.
"There has been a strong appetite for Apple's products in urban China seen since the launch of the iPhone 6 and 6 Plus and this has continued into Chinese New Year. China Mobile's subscribers accounted for 59% of the 27.6% volume share recorded by iOS in the latest period", said Carolina Milanesi, chief of research at Kantar Worldpanel ComTech.
The research firm said iPhone 6 remained the best selling phone in the world's second largest smartphone market in the three months ending February, with its share rising to 10.2 percent from 9.5 percent.
"With the two flagships, as well as older models still selling strong, Apple was able to grab the top spot in the smartphone manufacturers ranking. Xiaomi stepped down to number two," said Tamsin Timpson, strategic insight director at Kantar Worldpanel ComTech Asia," said Tamsin Timpson, strategic insight director.
On the other hand, Samsung continues to see its market share falling in China, occupying fourth position after Huawei, as its faces increased competition from low-cost Android smartphones.
But things are looking up for the South Korean company. After losing ground to Apple and Xiaomi, Samsung seems to have revived its fortunes in China with the introduction of its flagship models Galaxy S6 and S6 Edge in April, which carry high-end features such as a metal casing and glass back.
"Samsung's clear departure from previous generation's design will certainly help the Galaxy S6 and S6 Edge to stand out," Milanesi said.
The Korean company is betting big on new payment software and a three-sided display on the S6 Edge to improve sales and the pre-order demand for S6 devices is already on the rise.
Having received good feedback from reviewers, the S6 smartphones are set to go on sale in China from 17 April.
"The new flagship products in the Android ecosystem by Samsung, HTC, LG and Huawei shipping from April across markets will inject a new spark in the ecosystem battle", Milanesi added.