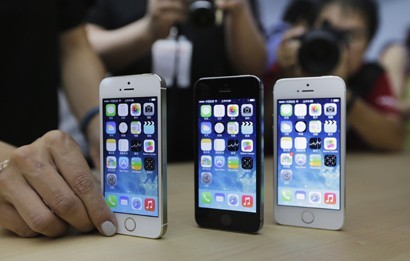 American technology giant Apple is reportedly planning to launch a new 4.0-inch iPhone 6C series alongside iPhone 6S smartphones later this year.
Taiwanese technology media house DigiTimes, citing industry sources, has claimed that Apple will introduce three iPhone variants in the second half of 2015.
Sources have revealed that iPhone 6C will house the generation-old A8 SoC (System on Chip), whereas iPhone 6S (both 4.7-inch & 5.5-inch) devices will ship with A9 chipsets.
Other specifications such as NFC and finger-print sensor technology will remain the same in all devices.
There is no valid proof to support this claim, but it is in line with previous reports. Back in December 2014, market analysts had predicted that Apple might introduce a new 4.0-inch iPhone device alongside regular iPhone 6S series in the later part of 2015.
[Read more: Apple iPhone 6S Mini with 4.0-inch Display Under Works; Launch Likely in 2015]
It was reported that the company's plastic-based iPhone 5C, which was launched along with iPhone 5S in 2013, was bit of a flop in the market. The latter being premium and expensive, outsold the cheaper variant across the world.
Later, Apple decided to pull the plug on the iPhone 5C production in 2014. It has now come to light that the Cupertino-based firm is contemplating a 4.0-inch display model to target female buyers. It is learnt that iPhone 6C will be a premium model with all metal-body and boast slim design language seen in the new iPhone 6 series smartphones.
Going by numerous reports, Apple is following Samsung's footsteps in offering multiple handsets in different budget segments. This is the second instance when Apple has taken a leaf out of Samsung's business strategy, the first being the introduction of big-screened iPhone 6 series handsets.
It really paid off for Apple as it recorded a staggering $18 billion in revenue in just three months (October-December, 2014) from iPhone 6-series sales alone. It's the biggest-ever revenue collection in corporate history of the world.
Just weeks ago, Samsung too, after being panned by critics and fans, finally introduced an all-metal body Galaxy S6, a true premium smartphone to compete with Apple's iPhone 6. Early reviews of the phone from tech pundits have been very encouraging and the company, anticipating huge demand, has reportedly increased production of the devices, which are slated to hit the stores on 10 April.
It seems like arch rivals Samsung and Apple are using each other as case studies to better themselves and bring out more innovative technology in smartphones and offer variety in the market. This rivalry ultimately makes the consumers the real winner here as they will be spoilt for choice.
Meanwhile, Apple has not reacted to the iPhone 6C speculations twirling on the internet, and like always, we expect Apple to maintain silence over the rumours till it officially announces the new devices around September later this year.