Cupertino-based Apple is all geared to host the company's annual fall product launch event, but unlike previous years, 2017 is special as it marks the 10th anniversary of the first-ever iPhone.
Apple's charismatic and eccentric CEO Steve Jobs had in 2007 said the company took 2.5 years to make the iPhone and it was a game-changer. Now, as the company celebrates a decade of its success, it plans to announce a commemorative special-edition iPhone X at the newly-built Steve Jobs Theater — at the the company's new spaceship-like campus Apple Park.
The event's keynote speech is scheduled to start at 10 am PDT (10:30 pm IST) on Tuesday at the Steve Jobs Theater.
Like previous years, Apple has made arrangements to webcast the entire programme online, so fans can watch Apple CEO Tim Cook and team unveil new products from the comfort of their home.
The only caveat is the live-streaming uses Apple's proprietary HTTP Live Streaming (HLS) technology and is compatible with select Apple devices and latest Windows 10-powered PCs.
What to expect at Apple Special Event 2017?
Besides the anniversary iPhone X, Apple is expected to announce a bevy of products including the successors of the iPhone 7 and the iPhone 7 Plus, dubbed the iPhone 8 and the iPhone 8 Plus, respectively.
Furthermore, Apple is also expected to pull the wraps off the next-generation Watch (Gen 3 series) with LTE-enabled SIM support and also the new Apple TV with 4K video-streaming capability.
How to watch on iPhone X launch on Windows PC?
Windows 10 PCs with Edge browser can directly head to Apple page (HERE) to watch the event.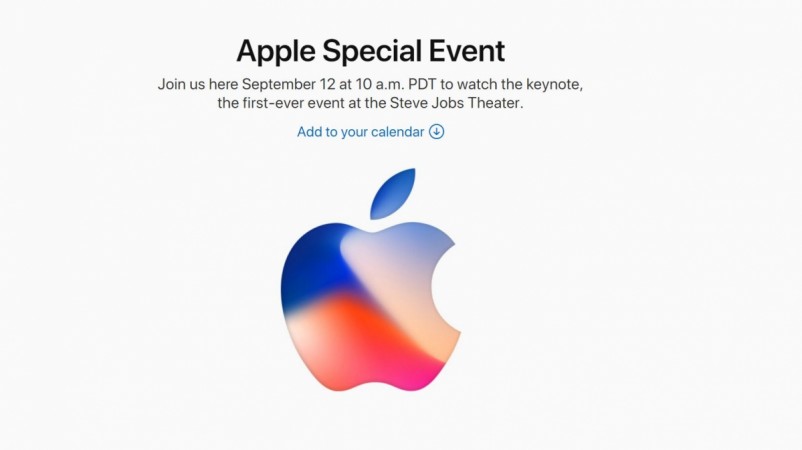 How to watch on iPhone X launch on Apple iPhones, iPods and iPads?
Unlike other device-owners, Apple iPhones, iPods and iPads owners need not sweat much. All they have to do is ensure that their device runs iOS 9.0 or later version to directly watch the event (HERE) via the Safari browser.
How to watch on iPhone X launch on Apple Macs?
Apple Mac PC should have OS X v10.11 (or later version) and run the Safari 6.0.5 (or later version) to watch the iPhone X launch event (HERE).
How to watch iPhone launch event on Apple TV?
Apple TV (4th Gen), which comes with latest software v6.2, can directly stream the event. The older, second and third-generation, Apple TVs have to install the aforementioned firmware in order to stream the live action.
Apple iPhone X launch timing details:
| | | |
| --- | --- | --- |
| City | Time | Time-Zone |
| San Francisco (U.S.A. – California) | Tuesday, September 12, 2017, 10:00:00 | PDT |
| New York (U.S.A. - New York) | Tuesday, September 12, 2017, 13:00:00 | EDT |
| Ottawa (Canada- Ontario) | Tuesday, September 12, 2017, 13:00:00 | EDT |
| Rio de Janeiro (Brazil – Rio de Janeiro) | Tuesday, September 12, 2017, 14:00:00 | BRT |
| London (United Kingdom – England) | Tuesday, September 12, 2017, 18:00:00 | GMT |
| Paris (France) | Tuesday, September 12, 2017, 19:00:00 | CET |
| Barcelona (Spain) | Tuesday, September 12, 2017, 19:00:00 | CET |
| Berlin (Germany) | Tuesday, September 12, 2017, 19:00:00 | CET |
| Amsterdam (Netherlands) | Tuesday, September 12, 2017, 19:00:00 | CET |
| Johannesburg (South Africa) | Tuesday, September 12, 2017, 19:00:00 | SAST |
| Moscow (Russia) | Tuesday, September 12, 2017, 20:00:00 | MSK |
| Abu Dhabi (United Arab Emirates - Abu Dhabi) | Tuesday, September 12, 2017, 21:00:00 | GST |
| Islamabad (Pakistan) | Tuesday, September 12, 2017, 22:00:00 | PKT |
| New Delhi (India – New Delhi) | Tuesday, September 12, 2017, 22:30:00 | IST |
| Indonesia (Jakarta) | Wednesday, September 13, 2017, 00:00:00 | WIB |
| Beijing (China - Beijing Municipality) | Wednesday, September 13, 2017, 01:00:00 | CST |
| Hong Kong (Hong Kong) | Wednesday, September 13, 2017, 01:00:00 | HKT |
| Singapore (Singapore) | Wednesday, September 13, 2017, 01:00:00 | SGT |
| Taipei (Taiwan) | Wednesday, September 13, 2017, 01:00:00 | CST |
| Seoul (South Korea) | Wednesday, September 13, 2017, 02:00:00 | KST |
| Tokyo (Japan) | Wednesday, September 13, 2017, 02:00:00 | JST |
| Canberra (Australia - Australian Capital Territory) | Wednesday, September 13, 2017, 03:00:00 | AEST |