Apple has been pushed to the fourth place in the Chinese smartphone market as 2016 marked the first time ever that Apple saw a year-over-year (YoY) decline in the PRC market.
Apple's reign ended: Google takes over as the world's most valuable brand
For the fourth quarter ended December 31, 2016, Apple's market share declined to 11 per cent from 15 per cent in the fourth quarter of calendar-year 2015. For full-year 2016, the tech titan's saw its share fall to 9.6 per cent from 13.6 per cent in 2015 amid competition from local manufacturers such as Huawei, Oppo and Vivo, according to a new report trends-tracker IDC.
As Apple's share of the Chinese market declined, the top three Chinese manufacturers all gained share over the same period. For the full-year 2016, Oppo's share increased to 16.8 per cent from 8.2 per cent in 2015; while Huawei's share increased to 16.4 per cent from 14.6 per cent a year ago, and Vivo's jumped to 14.8 per cent from 8.2 per cent last year.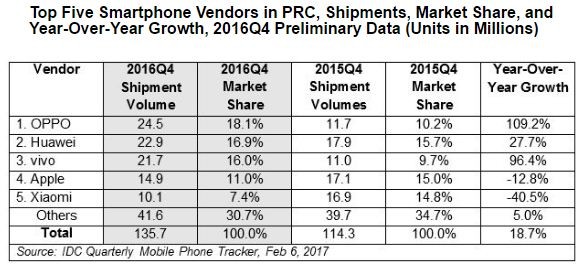 Last week, even though Apple reported stronger-than-expected iPhone sales globally, it said Greater China remained the only geographic where its revenue declined.
According to the latest IDC Quarterly Mobile Phone Tracker, the smartphone market in China witnessed a 19 per cent YoY growth and 17 per cent quarter-over-quarter (QoQ) growth in Q42016. The market share of the top four Chinese vendors in the top five smartphone vendors in the country grew to 57 per cent in 2016 from 46 per cent in 2015.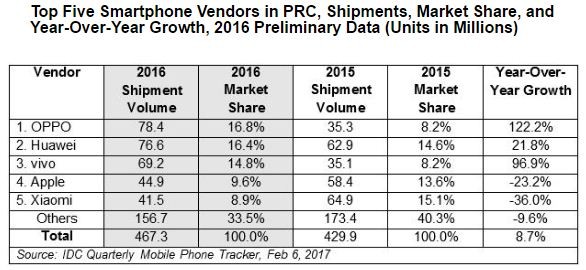 "Increased dependence on mobile apps has led to consumers to seek phone upgrades, thus helping drive the large growth in 2016Q4. In lower-tiered cities, there was a similar demand by consumers, which OPPO and Vivo met by aggressively pushing mid-range smartphones in these cities," Tay X iaohan, senior market analyst at IDC, said.
With the slowdown in the growth of the online channel in China last year, most brands are now using a combination of channels to increase their shipments. Xiaomi, which previously focused on online channels, has now opened more Mi Home stores to drive offline growth. Apple has also been aggressive in increasing its offline retail presence.
For 2017, market research firm IDC expects top Chinese vendors to increase their shipments in the international market, with India as a key target.