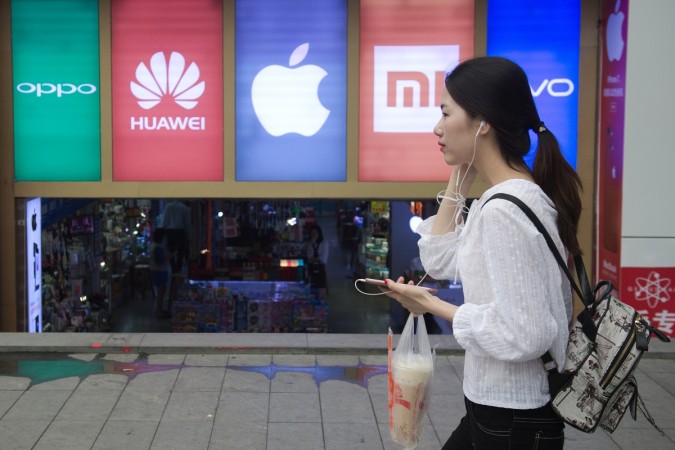 Cupertino-based Apple has overtaken its arch-rival Samsung as the global smartphone market leader, but only in the recently concluded fourth quarter, 2017.
Thanks to total domination (by Galaxy S8 series) in the first three quarters, Samsung managed to keep the top slot in terms of shipments for the whole year, International Data Corporation (IDC) reported citing Worldwide Quarterly Mobile Phone Tracker.
That being said, the overall market scenario in 2017 has been quite dull, For the full year, the worldwide smartphone market saw a total of 1.472 billion units shipped, with a decline of less than 1 percent compared to the 1.473 billion units shipped in 2016.
Furthermore, mobile vendors shipped a total of 403.5 million units during the fourth quarter of 2017 (4Q17), that's 6.3 percent drop when compared to the 430.7 million units shipped in the same period last year.
Slow growth in top markets — China and the US — is said to be the primary reason, as customers, despite having a plethora of flagship phones with newest display standard (18:9 aspect), OLED screen, powerful processor and more, showed no eagerness to make the purchase in the Christmas holiday season.
"In the presence of ultra-high-end flagships, the still high-priced flagships from the previous generation seemed far more palatable to consumers in 2017," Jitesh Ubrani, senior research analyst with IDC's Worldwide Mobile Device Trackers, said in a statement.
"Many high-profile companies offered their widest product portfolio ever in hopes of capturing a greater audience. Meanwhile, brands outside the top 5 struggled to maintain momentum as value brands such as Honor, Vivo, Xiaomi, and OPPO offered incredible competition at the low end, and brands like Apple, Samsung, and Huawei maintained their stronghold on the high end," Ubrani added.
Apple shipped 77.3 million iPhones in the fourth quarter, 1.3 percent less than the previous year in the same period. However, volumes were still enough to push Apple past Samsung and back into the first place in the smartphone market, largely because of iPhone 8, 8 Plus, and iPhone X. Samsung shipped 74.1 million smartphones compared to 77.5 million in the Q4 2016, IDC reported.
Even the emerging players Huawei (-9.7 percent) and Oppo (-13.2 percent) witnessed negative growth, but on the brighter side, Xiaomi had the most successful quarter with a staggering 96.9 percent growth.
Top 5 Smartphone companies, shipments, market share, and Year-Over-Year Growth, Q4 2017 Preliminary Data (shipments in millions)
Company
4Q17 Shipment Volumes
4Q17 Market Share
4Q16 Shipment Volumes
4Q16 Market Share
4Q17/4Q16 Change
1. Apple
77.3
19.2%
78.3
18.2%
-1.3%
2. Samsung
74.1
18.4%
77.5
18.0%
-4.4%
3. Huawei
41.0
10.2%
45.4
10.5%
-9.7%
4. Xiaomi
28.1
7.0%
14.3
3.3%
96.9%
5. OPPO
27.4
6.8%
31.6
7.3%
-13.2%
Others
151.3
38.6%
183.7
42.7%
-17.6%
Total
403.5
100.0%
430.7
100.0%
-6.3%
Source: IDC Worldwide Quarterly Mobile Phone Tracker, February 1, 2017
In terms of whole year, Samsung holds the top slot with 21.6 percent, while Apple and Huawei settled for second and the third position with 14.7 percent and 10.4 percent, respectively.
Oppo is placed fourth with 7.6 percent market share. On the other hand, Xiaomi, which was nowhere close to the top slots in 2016, has jumped to fifth with 6.3 percent global market share.
Top 5 smartphone companies, shipments, market share, and YoY growth, Calendar Year 2017 Preliminary Data (shipments in millions)
Company
2017 Shipment Volumes
2017 Market Share
2016 Shipment Volumes
2016 Market Share
Year-Over-Year Change
1. Samsung
317.3
21.6%
311.4
21.1%
1.9%
2. Apple
215.8
14.7%
215.4
14.6%
0.2%
3. Huawei
153.1
10.4%
139.3
9.5%
9.9%
4. OPPO
111.8
7.6%
99.8
6.8%
12.0%
5. Xiaomi
92.4
6.3%
53.0
3.6%
74.5%
Others
577.7
39.5%
654.5
44.4%
-11.7%
Total
1472.4
100.0%
1473.4
100.0%
-0.1%
Source: IDC Worldwide Quarterly Mobile Phone Tracker, February 1, 2017
Xiaomi's astronomical growth is attributed to the company shifting its focus outside China, particularly in India, Russia and entering in Europe (Portugal, Spain, among others) and also improving the Mi and Redmi series devices' availability in traditional brick-and-mortar stores via Mi Homes and Mi Preferred Partnership with big retail chains in India.
Stay tuned. Follow us @IBTimesIN_Tech on Twitter for latest updates on smartphones.