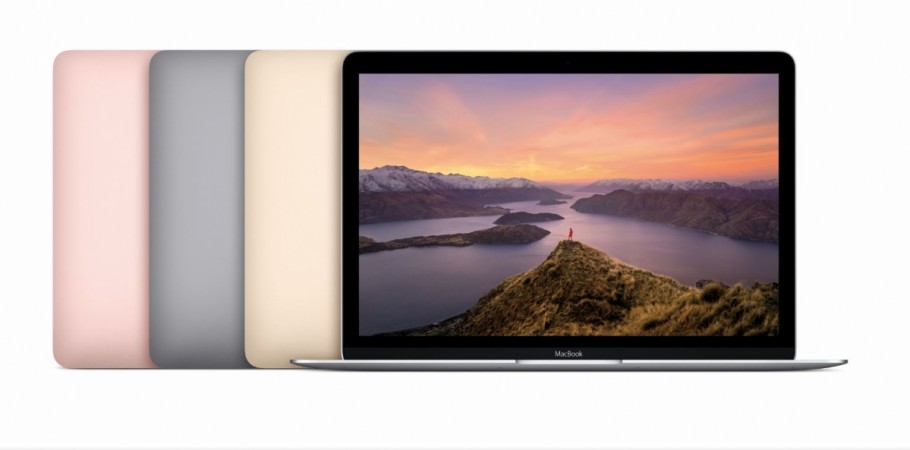 Cupertino-based technology major Apple took the wraps off the new MacBook on April 19.
Apple's new sleek MacBook series measures 13.1 mm thick at the centre and just 3.5 mm on the edges. It weighs around 920g, making it the slimmest Macbook series till date.
Another key aspect of Apple's new MacBook is its SoC (System-on-Chip). It ships with Intel's sixth-generation Skylake CPU architecture-based dual-core Core M processors. It comes in two configurable models— one with a 1.1GHz clock rate and the other houses a 1.2GHz speed processor.
Rest of the specifications remain the same in both the variants. They feature Intel HD Graphics 515 with dual-display and video mirroring, 8GB LPDDR3 RAM, 480p FaceTime camera and a 41.4-watt-hour lithium-polymer battery, which can keep the device running for close to 30 days under standby mode.
"MacBook is the thinnest and lightest Mac we have ever made and it's our vision for the future of the notebook," Philip Schiller, Apple's senior vice president of Worldwide Marketing, said in a statement.
"Customers are going to love this update to MacBook, with the latest processors, faster graphics, faster flash storage, longer battery life and a beautiful rose gold finish," Schiller added.
Apple MacBook (2016) price and release details:
Apple MacBook with 1.1GHz processor and 256GB storage configuration is priced at $1,299 (€1143) and other with 1.2GHz CPU with 512GB inbuilt storage comes with a $1,599 (€1407) price-tag.
In India, lower-end model costs Rs.1,06,900, whereas the top-end variant will set you back by Rs. 1,29,900. Both the MacBooks will be available at select Apple Authorised Resellers starting Wednesday.
Key features of Apple MacBook (2016):
Model
Apple MacBook (2016)
Display
12.0-inch (diagonal) LED-backlit IPS screen with 2304x1440p resolution

Pixel density: 226 ppi (pixels per inch)

OS
OS X El Capitan
Processor
Model 1: 1.1GHz dual-core Intel Core m3 processor (Turbo Boost up to 2.2GHz) with 4MB L3 cache.Configurable to 1.3GHz dual-core Intel Core m7 processor (Turbo Boost up to 3.1GHz) with 4MB L3 cache.)
Model 2: 1.2GHz dual-core Intel Core m5 processor (Turbo Boost up to 2.7GHz) with 4MB L3 cache.Configurable to 1.3GHz dual-core Intel Core m7 processor (Turbo Boost up to 3.1GHz) with 4MB L3 cache.
GPU
Intel HD Graphics 515 with Dual display and video mirroring: simultaneously supports full native resolution on the built-in display and up to 3840 by 2160 pixels at 30Hz on an external display, both at millions of colors
RAM
1566MHz 8GB LPDDR3 RAM
Storage
256GB/ 512GB PCIe-based onboard flash storage
Camera
480p FaceTime web camera
Battery
Built-in 41.4-watt-hour lithium-polymer battery with 29W USB-C Power Adapter and USB-C power port

Up to 10 hours wireless web
Up to 11 hours iTunes movie playback
Up to 30 days of standby time

Keyboard and touchpad
Full-size keyboard with 78 (U.S.) or 79 (ISO) individual LED backlit keys, including 12 function keys and 4 arrow keys with ambient light sensorForce Touch trackpad for precise cursor control and pressure-sensing capabilities; enables Force clicks, accelerators, pressure-sensitive drawing, and Multi-Touch gestures
Add-ons
Bluetooth v4.0, Wi-Fi (802.11 a/b/g/n), USB-C port, USB v3.1 (1st Gen), Native DisplayPort v1.2 video output, HDMI video output via USB-C Digital AV, Multiport Adapter (sold seperately), stereo speakers, dual microphones,
Dimensions
280.5 x 196.5 x 3.5-13.1 mm
Weight
0.92kg
Colours
Rose gold, space gray, gold and silver
Price
In U.S.:

Configuration 1 -1.1 GHz dual-core Intel Core m3 processor with Turbo Boost speeds up to 2.2 GHz, 8GB of memory and 256GB of flash storage :$1299 (€1143)
Configuration 2 -1.2 GHz dual-core Intel Core m5 processor with Turbo Boost speeds up to 2.7 GHz, 8GB of memory and 512GB of flash storage :$1599 (€1407)

In India:

Configuration 1: Rs.1,06,900
Configuration 2: Rs.1,29,900