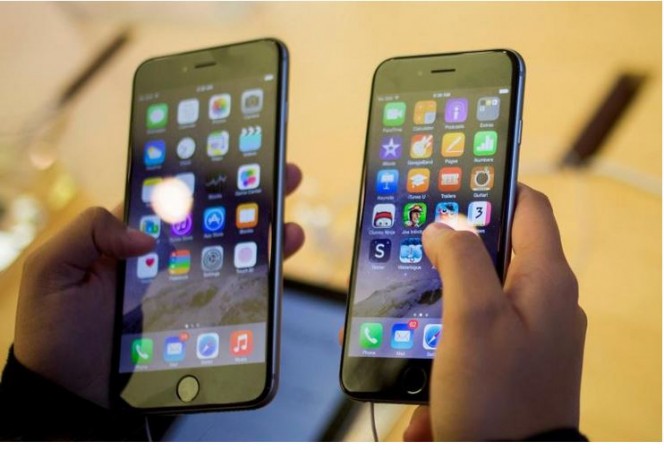 In the fierce flagship war between smartphone makers, Samsung and Apple are the biggest competitors. While these two giants have the largest presence in the smartphone world, people are on a close watch for new flagships every year.
Samsung may be slipping from its dominance, but Apple is slowly taking the reins into its own hands. After immense success of iPhone 6 and iPhone 6 Plus, Apple's next flagship release is going to be a hot topic for the next couple of months.
Samsung is convinced that the upcoming Galaxy S6 will be a game changer and built from the ground, hence the codename Project Zero. Besides iPhone 7 and Galaxy S6 are the two most anticipated devices of the year and it's only fair to see the two handsets compared with each other, based on the rumours and speculations we have so far.
Display
Both flagships are going to feature best displays in their own ways. Samsung will clearly boast a higher-resolution display of 1440x2560 pixels with its screen measuring about 5.5 inches. It will be protected by Corning Gorilla Glass 4 and pack 534ppi.
There is no concrete evidence on what screen size iPhone 7 will embrace, but the iPhone 6 and 6 Plus displays only suggest the bigger screens are in the books. There are rumours hinting at Sapphire Glass technology for the iPhone 7, after similar claims concerning iPhone 6 were flushed down the drain.
Another report from The Economic Times is suggesting a 3D display that won't require a special glass to witness the effects. At the very least, there's going to be a full HD device or most likely a Quad HD phablet, FuseJoplin reports.
Design
Apple has clearly won the hearts of millions with its striking design evolution in the iPhone 6 and the company is likely to continue the trend. The Cupertino based tech giant won't give up on its premium choice of materials like metal frame and sapphire protection for fingerprint scanner. We can expect some improvements from the current model.
Samsung, however, will carry out the biggest change in its history. The company will finally ditch plastic use in flagship in favour of aluminium. The handset's unibody will allow it to be dust and water-resistant, but there are conflicts regarding this. There are several concepts lined up, but all are based on the rumours from inside sources. The company is also expected to have an Edge variant of the flagship.
Camera
For Apple, this is going to be a major area of focus. The next flagship is said to have the biggest camera update in Apple's history. The tech giant is looking to bring DSLR like image quality into pictures taken using iPhone 7. Apple is reportedly undergoing a major switch from 8mp in current models to 21mp two-lens system in the iPhone 7. The camera is said to feature HDR for a 4K video.
Samsung will also upgrade its camera in the Galaxy S6. Rumours suggest a 21mp camera with face detection autofocus is in the books, a sensible upgrade from 16mp OIS camera found on the Galaxy S5. The front shooter will feature a predictable 5mp sensor, much like most rivals in the industry.
Under The Hood
There is a lot of upgrade that will take place under the hood for both competing flagships. Samsung was earlier expected to feature Qualcomm's Snapdragon 810 processor but early testing showed overheating issues. There are reports hinting at using Samsung's own Exynos SoC, a 64-bit chip with four Cortex-A53 and four Cortex-A57 cores. Other features include a 3GB RAM and 32GB/64GB/128GB storage models with microSD slot.
Apple will also witness its biggest change ever by upgrading RAM from 1GB to 2GB, a change which was expected in iPhone 6 and 6 Plus. A new RAM module will also reduce power consumption while increasing performance. If the tradition follows, the iPhone 7 will come with A9 processor.
Release
Samsung is going to be the first to release its flagship this year while Apple will wait for its usual year-end release. The Korean tech giant has already reserved an event in the MWC 2015 schedule on 1 March. The invites are out and hints at the Edge flagship release alongside Galaxy S6. Apple is expected to release the iPhone 7 in September, like it does with every other flagship each year.