As promised, Apple is all geared up to release the company's latest iOS v11.0 to all eligible devices on Tuesday, September 19.
As per reports, Apple iOS v11.0 ETA (Estimated Time of Arrival) is 10 am PT (10.30 pm IST). It is a major update and comes with a boatload of improvements and also a slew of new value-added features.
Furthermore, Apple has incorporated new dedicated features to enhance iPad user-experience such as exclusive Dock option that allows users get quick access to frequently used apps. It also comes with refurbished app switcher that makes it easier to move between pairs of active apps, used in Split View and now Slide Over, new Files app keeps everything in one place, whether files are stored locally, in iCloud Drive or across other providers like Box, Dropbox and more, and with Drag and Drop available across the system, moving images and text is easier than ever.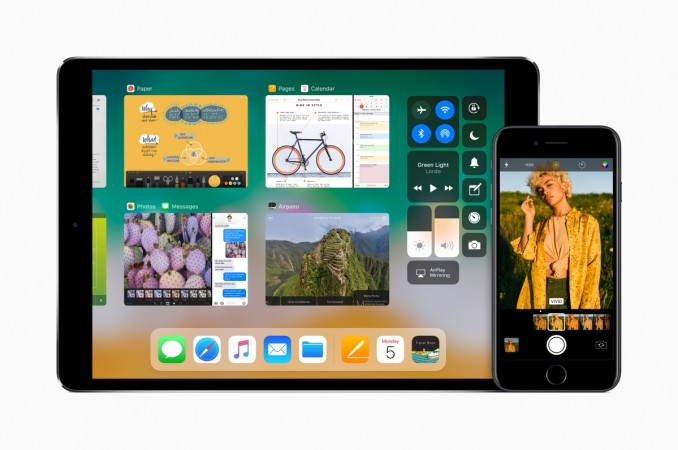 With iOS v11.0, Apple Pencil related features get more deeply integrated into iPads with support for inline drawing and a new Instant Notes feature, that allows users open Notes from the Lock Screen itself. Users just have to tap Apple Pencil on the display and start scribbling away on the Note app.
Another highlight of the iOS 11 is that it makes iPhones and iPads compatible with AR (Augmented Reality) applications. With AR apps on iPhone and iPad, users can view virtual content on top of real-world scenes for interactive gaming, immersive shopping experiences, industrial design and more. Apple promises that the apps will deliver high-quality AR experiences using the built-in camera, powerful processors and motion sensors in iOS devices.
Other notable feature upgrades include new Photo option, where Portrait Mode images can be taken with optical image stabilization, True Tone flash and HDR. It also comes with High-Efficiency Image File Format (HEIF) that reduces the file size of every photo taken with iPhone 7 and iPhone 7 Plus.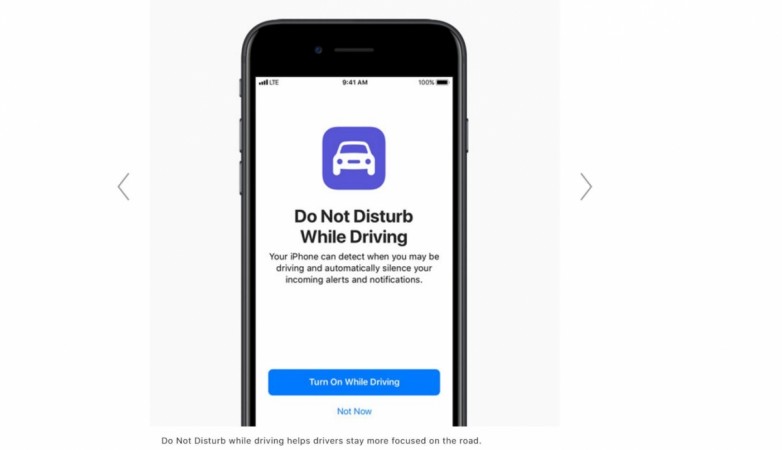 Thanks to iOS v11.0, Apple Pay, which was previously used just as a cash-less mode of transaction in stores, will now allow users to send/receive money between friends and family's bank accounts via Messages, or tell Siri to pay someone, using the credit and debit cards they already have in Wallet.
Another noteworthy feature coming in iOS 11 is the 'Do not disturb while driving'. Once updated to the new OS, Apple devices with the help of intelligent sensors, will get automatically triggered, as it can sense the user is travelling on road. Once activated, it silences notifications and also keeps the screen dark, so the owner focused on driving. It also comes with an option that lets the user create an auto-reply message to the contacts listed in Favourites and let them know you are driving and cannot respond until they arrive at the destination.
How to install latest iOS v11.0 update on iPhones, iPads and iPod Touch:
Via OTA (Over-The-Air):
1. Settings >> General >> Software update
[Tip: Users' who want to install the update directly on the device via OTA, make sure to clear enough device storage space and also make sure the device has more than 50% battery life, before downloading the new OS firmware]
via iTunes
1. Backup your iPhone or iPad with either iCloud or via iTunes.
2. Launch iTunes on your Mac or PC.
3. Make sure you're on the latest version of iTunes. Go to About and then Check for Updates or visit iTunes.com.
4. Plug in your iPhone, iPad, or iPod touch if it isn't already.
5. Click on iPhone, iPad, or iPod in the top left navigation.
6. Click on the Check for Update button in the first section that contains information about your device and alternately you can click restore instead if you'd like to do a clean wipe with updated software.
7. An update should be recognised, click on Download and Update in the popup menu and agree to any terms or conditions.
8. Unlock your device with your passcode if prompted in order to continue with the upgrade.
List of Apple iPhons, iPads and iPods eligible for iOS 11 update:
| | | | |
| --- | --- | --- | --- |
| Apple device category | iPhones | iPads | iPod Touch |
| Device versions eligible for iOS 9.3 update | iPhone 5S, iPhone 6, iPhone 6 Plus, iPhone 6S and iPhone 6S Plus, iPhone 7, iPhone 7 Plus[iPhone 8, iPhone 8, iPhone 8 Plus and iPhone X come with iOS 11 out-of-the-box] | iPad mini (2 Gen), iPad mini (3 Gen), iPad Mini (4 Gen), iPad (5th Gen), iPad Air (1st Gen), iPad Air (2nd Gen), iPad Pro 12.9 (1st Gen), iPad Pro 12.9 (2nd Gen), iPad Pro 10.5 inch (1St Gen), iPad Pro 9.7-inch (1st Gen) | iPod Touch (6th Gen) |
Apple iOS 11 Global ETA Details:
| | | |
| --- | --- | --- |
| City | Time | Time-Zone |
| San Francisco (U.S.A. – California) | Tuesday, September 19, 2017, 10:00:00 | PDT |
| New York (U.S.A. - New York) | Tuesday, September 19, 2017, 13:00:00 | EDT |
| Ottawa (Canada- Ontario) | Tuesday, September 19, 2017, 13:00:00 | EDT |
| Rio de Janeiro (Brazil – Rio de Janeiro) | Tuesday, September 19, 2017, 14:00:00 | BRT |
| London (United Kingdom – England) | Tuesday, September 19, 2017, 18:00:00 | GMT |
| Paris (France) | Tuesday, September 19, 2017, 19:00:00 | CET |
| Barcelona (Spain) | Tuesday, September 19, 2017, 19:00:00 | CET |
| Berlin (Germany) | Tuesday, September 19, 2017, 19:00:00 | CET |
| Amsterdam (Netherlands) | Tuesday, September 19, 2017, 19:00:00 | CET |
| Johannesburg (South Africa) | Tuesday, September 19, 2017, 19:00:00 | SAST |
| Moscow (Russia) | Tuesday, September 19, 2017, 20:00:00 | MSK |
| Abu Dhabi (United Arab Emirates - Abu Dhabi) | Tuesday, September 19, 2017, 21:00:00 | GST |
| Islamabad (Pakistan) | Tuesday, September 19, 2017, 22:00:00 | PKT |
| New Delhi (India – New Delhi) | Tuesday, September 19, 2017, 22:30:00 | IST |
| Indonesia (Jakarta) | Wednesday, September 20, 2017, 00:00:00 | WIB |
| Beijing (China - Beijing Municipality) | Wednesday, September 20, 2017, 01:00:00 | CST |
| Hong Kong (Hong Kong) | Wednesday, September 20, 2017, 01:00:00 | HKT |
| Singapore (Singapore) | Wednesday, September 20, 2017, 01:00:00 | SGT |
| Taipei (Taiwan) | Wednesday, September 20, 2017, 01:00:00 | CST |
| Seoul (South Korea) | Wednesday, September 20, 2017, 02:00:00 | KST |
| Tokyo (Japan) | Wednesday, September 20, 2017, 02:00:00 | JST |
| Canberra (Australia - Australian Capital Territory) | Wednesday, September 20, 2017, 03:00:00 | AEST |