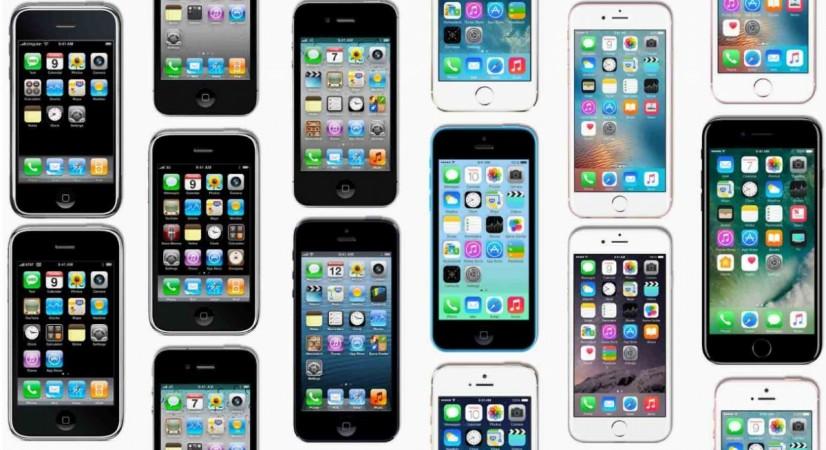 Apple has released a new iOS software with version number 11.2.6 for iPhones and iPads. It is an incremental update and comes with a security update, bug fixes and performance improvements.
Here's why you should upgrade your Apple devices to iOS 11.2.6 update:
The new iOS 11.2.6 is an unplanned update release as the company was beta testing iOS 11.3 to address the controversial battery and CPU speed issues in older Apple iPhones, but due to the emergence of the Telugu Unicode bug, the company has been forced to come up with intermediate firmware
For those unaware, a Telugu Unicode character had wreaked havoc last week by crashing iMessage, WhatsApp and other messenger apps on iPhones and later in the weekend, the same bug surfaced again, affecting Twitter and Facebook, among other social media applications.
Several iPhone owners are reporting that their Twitter app is crashing randomly for no reason. On deeper investigation by tech-savvy users, it was uncovered that some mischief mongers had added the dreaded Telugu (South Indian language) character onto their screen-name on Twitter and started liking random Twitter handles. Once the iPhone Twitter app user received a 'like' notification on the screen, he/she would open Twitter which would lead to the crash.
For the uninitiated, the character 'జ్ఞా' pronounced 'gnya' is a Telugu (South Indian language) consonant. Apparently, Apple iPhone's iOS is not able to interpret the meaning which leads to the crash.
This issue is mainly faced by iPhones and iPads updated with the latest iOS 11.2.5. Now, with the release of iOS 11.2.6, Apple has fixed the app crashing bug and also rectified another glitch, which causes third-party apps on Apple devices connecting to wireless external accessories.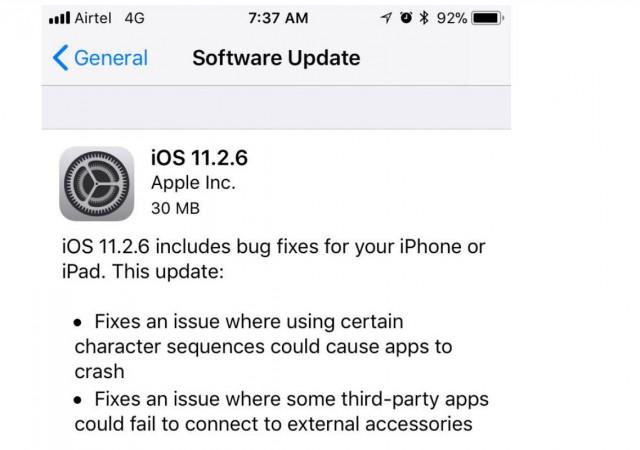 We advise Apple device owners to upgrade to the latest iOS 11.2.6 update as soon as possible.
How to install latest iOS v11.2.6 update on iPhones, iPads and iPod Touch:
Via OTA (Over-The-Air):
1. Settings >> General >> Software update
[Tip: Users' who want to install the update directly on the device via OTA, make sure to clear enough device storage space and also make sure the device has more than 50% battery life, before downloading the new OS firmware]
via iTunes
1. Back up your iPhone or iPad with either iCloud or via iTunes.
2. Launch iTunes on your Mac or PC.
3. Make sure you're on the latest version of iTunes. Go to About and then Check for Updates or visit iTunes.com.
4. Plug in your iPhone, iPad, or iPod touch if it isn't already.
5. Click on iPhone, iPad, or iPod in the top left navigation.
6. Click on the Check for Update button in the first section that contains information about your device and alternately you can click restore instead if you'd like to do a clean wipe with updated software.
7. An update should be recognised, click on Download and Update in the popup menu and agree to any terms or conditions.
8. Unlock your device with your passcode if prompted in order to continue with the upgrade.
Apple devices eligible for iOS 11.2.6 update:
| | | |
| --- | --- | --- |
| Apple device category | iPhones | iPads |
| Device versions eligible for iOS 11.2.6 update | iPhone 5S, iPhone 6, iPhone 6 Plus, iPhone 6S and iPhone 6S Plus, iPhone 7, iPhone 7 Plus, iPhone 8, iPhone 8, iPhone 8 Plus and iPhone X | iPad mini (2 Gen), iPad mini (3 Gen), iPad Mini (4 Gen), iPad (5th Gen), iPad Air (1st Gen), iPad Air (2nd Gen), iPad Pro 12.9 (1st Gen), iPad Pro 12.9 (2nd Gen), iPad Pro 10.5 inch (1St Gen), iPad Pro 9.7-inch (1st Gen) |
Stay tuned. Follow us @IBTimesIN_Tech on Twitter for latest updates on Apple products.