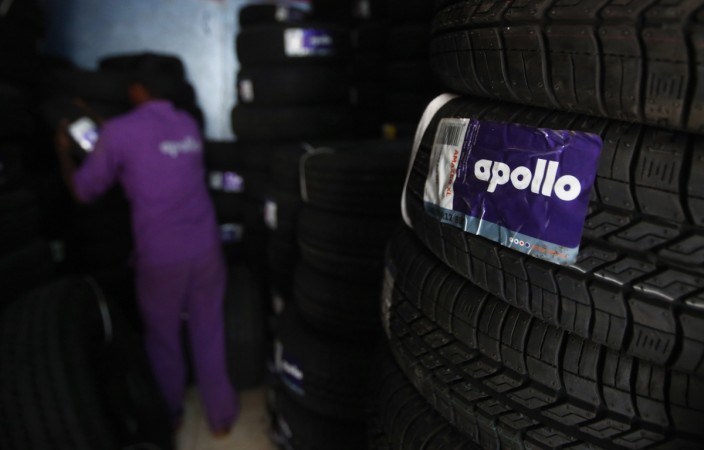 Among companies that will be declaring their September quarter (Q2) results next week, investors would be keen to know the performance of Apollo Tyres, Ceat and JK Tyre Industries. The share prices of many tyre companies had a long bullish run on the stock markets, even as an analyst has said that the industry continues to have "achche din" ahead.
Apollo Tyres and JK Tyre Industries will be declaring their Q2 results on November 9, while RPG Enterprises company Ceat will be announcing its results two days ahead.
MRF declared its results on October 27, posting a fall in net profit to Rs 385 crore (from Rs 449 crore in Q2, FY2015) and total revenues that dropped to Rs 3,591 crore (from Rs 3,630 crore in Q2,FY2015).
On Thursday, MRF shares were up 1.33 percent at Rs 50,265 apiece at around 1.27 pm on the BSE. Apollo Tyres was trading one percent higher at Rs 201.30, Ceat was up 1.28 percent at Rs 1,219 and JK Tyre Industries was almost flat at Rs 144.
Ceat shares have appreciated 43 percent in three months (from August 3 closing of Rs 850) while Apollo Tyres have gained 29 percent (from August 3 closing of Rs 156).
An analyst on Thursday said that the tyre industry is well-positioned to do well in the coming months. "It sees a great future because few things are happening in the industry. No major capacity expansion taking place. There is a competitive equilibrium there. Nobody is competing hard enough on prices etc and the third most important thing is the growth trajectory is decent enough at this point of time," Ajay Srivastava, CEO of Dimensions Consulting told CNBC-TV18.
Other players in the Indian tyre industry, which has been hit by rising imports from China, are Goodyear India and French tyre maker Michelin.
Last month, Michelin launched its radial truck tyres in the Indian market, marking its entry in the mass market commercial vehicle tyre segment. "The new Michelin X Guard is a demonstration of the commitment of the Michelin Group to bring the most advanced tyre technologies to India," Mohan Kumar, Commercial Director, Michelin India, said on October 4.