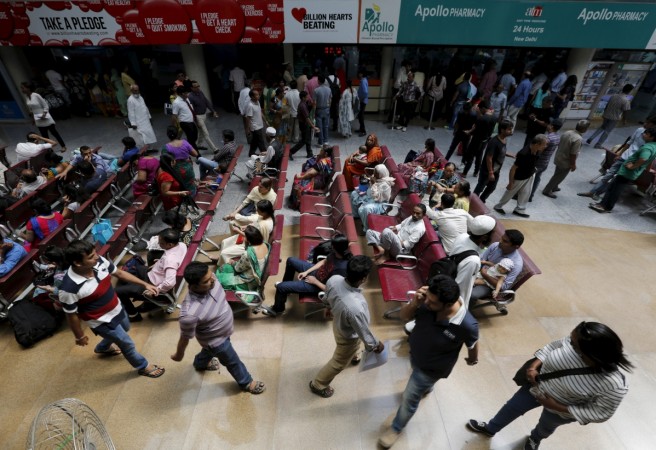 Apollo Hospitals Enterprise Ltd (AHEL), a leading healthcare provider, reported an increase of 14.9 percent in its net profit to Rs. 109.2 crore for the third quarter ended Dec 31, 2015.
The company had posted a net profit of Rs 95 crore for the corresponding period in the previous fiscal year. The revenues increased to Rs 1,380.5 crore in comparison from Rs 1,182.5 crore in the same period of the previous year, recording an increase of 16.7 percent. According to the management, the company has delivered improved margins across all segments, existing as well as new hospitals and Systems, Applications and Products (SAPs).
The management has also announced its plans to add and operationalise 495 beds by the end of FY16. Of these, 180 beds in North Bangalore and 250 in Vizag are to be commissioned, while 65 beds will be added to the company's existing facility at Indore.
Apollo Health & Lifestyle Ltd. (AHLL), the wholly owned subsidiary which houses the retail healthcare business of Apollo Hospitals, plans to invest Rs 500 crore to fund the growth of the business and plans to invite Private Equity investors to participate in this growth opportunity.
"We continue to enhance the degree of clinical differentiation across our hospitals in the areas of transplants, Oncology, Cardiology and Neurosciences and healthcare accessibility for all by extending our presence in both Tier 1 and Tier 2 locations across India," Dr. Prathap C Reddy, Chairman, AHEL said in a statement.
The AHEL portfolio includes over 9,000 beds across 65 Hospitals, 2,263 Pharmacies, 130 Primary Care and Diagnostic Clinics, 100 Telemedicine units across 10 countries.
On Feb. 12, Apollo Hospitals Enterprise Ltd closed at BSE at Rs 1,426.05, down Rs 1.05. The 52-week high of the share was Rs 1,428.10 and the 52-week low was Rs 1,340.50.
[1 lakh = 100,000 | 1 crore = 10 million | 100 crore = 1 billion]