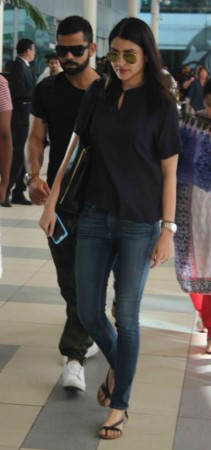 Bollywood actress Anushka Sharma, who is busy promoting her next outing "Bombay Velvet", opened up on the controversy surrounding her presence during the World Cup 2015 semi-final match and has come out in defence of her boyfriend Virat Kohli.
Due to poor batting, India failed to beat Australia, resulting in a 95-run defeat. The Indian top order collapsed, but star batsman Virat Kohli, who scored just 1 run, was singled out, inviting caustic comments from social media users.
Many of them blamed Anushka Sharma for Virat Kohli's poor show, saying her presence at the match was a distraction for him. A disappointed Virat Kohli blasted them for blaming the actress. But Anushka restrained herself from commenting on the issue.
She has now broken her silence over the controversy.
During the promotion of "Bombay Velvet", which is scheduled to be released in theatres worldwide on 15 May, Anushka called her attackers 'goons' for bullying her.
In an interview with DNA, she said: "I don't know what to make out of it. It is upsetting, no doubt. To be targeted and bullied by goons, if I call them that. It was very hurtful. It is sad that a self-made, successful woman, can be degraded and downgraded to nothing more than a distraction or a 'mandakini' who is destroying someone's concentration."
Anushka then praised Virat's passion for cricket. "...you are doubting the credibility and passion of one of your brightest players. Who I know, has so much passion for his game that he went and performed in a match on the day his father died. People don't understand the enormity of that," the actress told DNA.
Anushka regretted that celebrities struggle a lot to reach a certain position, but people belittle them with their insensitive comments. "We need to have some basic sensitivity towards everyone, but I think intelligent people -- I am not saying educated because even they behave quite stupidly -- evolved and civilised people know how to behave in such situations and I don't really think the others have any significance in the society in any case," the actress said.