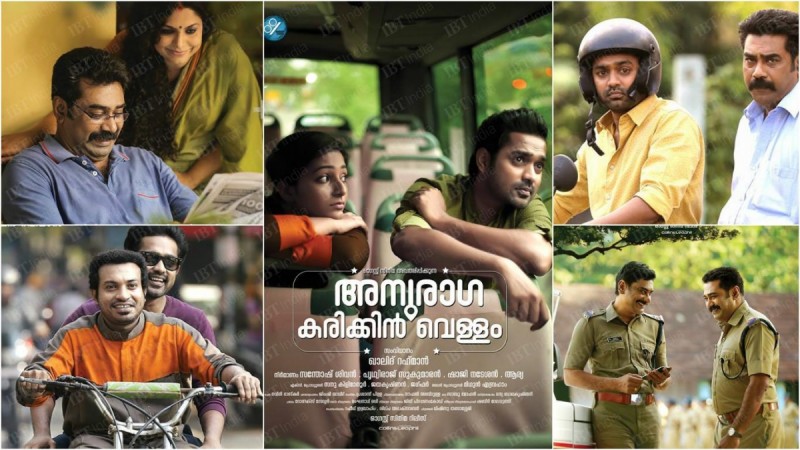 The latest Malayalam family comedy entertainer, "Anuraga Karikkin Vellam," was released in 74 screens across Kerala on Thursday, July 7, as an Eid treat to the fans of actors Asif Ali and Biju Menon. In the Khalid Rahman directorial, Biju plays the role of a police officer and Asif is seen as his son.
Rajisha Vijayan plays the female lead role opposite Asif in "Anuraga Karikkin Vellam," which also has Asha Sarath, Sreenath Bhasi, Soubin Shahir and Sudheer Karamana in key roles.
Read: Anuraga Karikkin Vellam IBTimes India Review
Anuraga Karikkin Vellam Critics Review
Naveen Bhaskar has penned the script of "Anuraga Karikkin Vellam," for which music has been composed by Prasanth Pillai and cinematography and editing have been handled by Jimshy Khalid and Noufal Abdullah, respectively. It is the seventh movie bankrolled by production house August Cinema, which is co-owned by actor Prithviraj Sukumaran, Arya, cinematographer-director Santhosh Sivan and entrepreneur Shaji Nadesan.
Looking at the response of social media users to the first half of the movie, the Asif-starrer is said to be a decent entertainer garnering positive reviews from the audience. It has locked horns with megastar Mammootty's much-awaited film "Kasaba," multi-starrer "Shajahanum Pareekuttiyum" and Manju Warrier's "Karinkunnam 6's" at the Kerala box office.
Check out the audience's response to "Anuraga Karikkin Vellam" here:
Vivek Ranjit
Anuraga Karikkin Vellam is a fresh, beautiful family movie that will absolutely win your hearts. Relatable to each and every member of the family whatever age they maybe in, this one is a definite must watch. A sincere, heartfelt and lovable performance from Asif Ali, a fantastic Biju Menon in superb form, an elegant Asha Sharath and a great surprise package in the form of the heroine Rajisha Vijayan. And of course, the ever bankable Sudheer Karamana, Maniyan Pillai Raju, Sreenath Bhasi and the dude Soubin Shahir who totally owns every scene he is in. Written with a lot of heart by Naveen Bhaskar and skilfully executed by Khalid Rahman with lovely music by Prashant Pillai and fab cinematography by Jimshi Khalid; take your entire family along for this completely fresh and lovable experience. I'm taking my family soon. Love & hugs to the entire team!!
Malayalam Review ‏
#AnuragakarikkinvellamGood First Half. Entertaining Simple Story Filled With Light Comedies Rajisha Biju Menon Second Half also Good. Climax Ok. Overall Good. Timepass Entertainer Simple Story Presented Well. Nice Comedies. Good Casting Rajisha - Another Talented Heroine 4 Mollywood Biju Menon 3/5 Go For it
Sree Kanth
Anuraga Karikkin vellam : It was really a surprise for me. Not a great film but has an engaging execution and lots of moments to laugh :) a decent entertainer
Anandhu Suresh
Saw ‪#‎Anuragakarikkinvellam‬✌️

Hats off ‪#‎khalid_rahman‬
Here comes real ‪#‎Asif_ali‬
‪#‎Biju_menon‬ was awesome ❤️
‪#‎asha_sharath‬ , ‪#‎sreenath_bhasi‬ and
‪#‎soubin‬ done their job neatly

* casting was superb ❤️
* Also background score ❤️
* Cinemotography outstanding ( jimshi khalid )

Expect more films like this
All crew

My rating (9.7/ 10)
Support good films ✌️
AshiQue Cm
Simple. Cute. Go and watch it without high expectations!
It wont disappoint you! :)
Afsal Afzi
Watched Anuraga karikkin vellam :)
A clean Family entertainer :)
Gud movie with lot of fun & a good theme :)
Asif - biju combo thakarthu :)
Asif Ali - rajisha comboyum nalla feel ayrnu kanan :)
Otyavakil paranja superb :)
My rating 4/5
Abid
#Anuragakarikkinvellam Interval - Superb 1st half Laughed a lot ! Simple n cute ! waiting for 2nd half ! Asif,Biju Menon & Rajisha
Justin James
Anuraga karikkin vellam is pure awesomeness , feel goodness at its best♥ genuinity is always meant to b appreciated ‪#‎Anuraagakarikkinvellam‬ellaam nalla adipoli "naveen bhaskar " screenwriting, "Khalid rahman" filmmaking, prasanth Pillai" music , superb biju Menon n asif ali and beautiful rajisha vijayan <3 simple,sweet,cool,genuine fun film.
Mohammed Sahil
1st half pwolichu
ASIF IKKAA <3
Yedu
1st half over !! ^_^
Feels good one <3
Bijuettan, Asif and Soubin Kiduzzz ✌ Rajisha
-