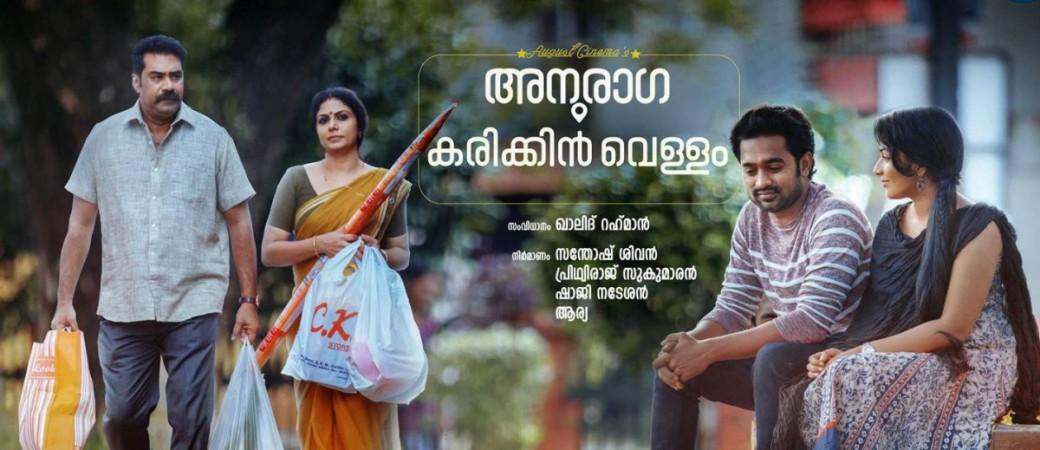 Among the Malayalam movies that were released on Eid, Asif Ali and Biju Menon's "Anuraga Karikkin Vellam" has been garnering positive response from all quarters.
Critics have called "Anuraga Karikkin Vellam" as a realistic entertainer. The 129-minute family entertainer, directed by Khalid Rahman and penned by Naveen Bhaskar, has been tagged as a comeback movie for Asif, who hasn't been able to make a mark at the Kerala box office since 2015. They have also lauded Rajisha Vijayan for her performance as Elizabeth opposite Asif.
Read 'Anuraga Karikkin Vellam' Audience Review
Plot
In "Anuraga Karikkin Vellam," Biju plays the role of a police officer, Raghu, opposite Asha Sharath, who is seen as a housewife named Suma. The couple has two children, a son Abhi (played by Asif) and a daughter. The movie narrates the incidents that happen in the middle-class family.
Read: Anuraga Karikkin Vellam IBTimes India Review
Check out what critics have to say about "Anuraga Karikkin Vellam":
What the movie is trying to achieve is to show us the brighter side of a broken relationship as everything in life gives us a valuable lesson to move forward. My slight disagreement was on the final act regarding that nerd guy. There was this selfless concern inside him, which needed to be appreciated in a better way. Cinematography was good. The edits also had the pace to keep us occupied. Loved the songs and fitting background scores from Prashanth Pillai. The sound design was also quite natural. On the whole Khalid Rahman's Anuraga Karikkin Vellam written by Naveen Bhaskar is an enlightening and absorbing feel good rom com that will bring a smile to your face. Out of the four releases we had this week, this one would be the one I would recommend.
The movie tries to break down the patriarchal ideas in man-woman relationships, all the while giving an insight into the egoistic, self-centered and finicky Malayali men stereotype — a recipe for a delectable movie for the womenfolk. Anuraga Karikkin Vellam is definitely a must watch, a light-hearted family drama, which will make every husband pause and think about the super woman in his life.
Anuraaga Karikkinvellam reminds of a nostalgic feeling and the movie is also on a consequential effect of a lost love. Directed by the debutant Khalid Rahman, Anuraaga Karikkin Vellam looks at the happenings in a middle class modern family and their worries and happiness. The movie not just about one love story but there is many and uncountable. In order to assemble all into one frame, the task is hard and has done it to the point. The movie was missing something here and there and it might be the relation with every story in it and it is complicated to a level. Watch the movie if you still remember your first love and if it is lost, it may make big changes in your life. Anyway Anuraaga Karikkin Vellam tastes sweet not bitter.