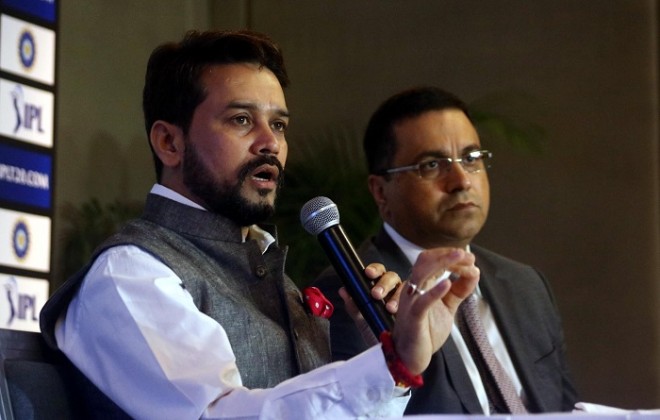 Sandeep Patil opened a can of worms when he revealed Sachin Tendulkar might have been given a nudge into retirement, particularly of the one-day variety. When you make such revelations, you immediately open yourself up for criticism, with Anurag Thakur, the BCCI president, making his feelings clear on the former chairman of selector's comments.
Calling the revelations made by Patil "unethical," Thakur was clear in the fact that Patil should not have brought up the Tendulkar retirement talk in the media. Patil also spoke about the selectors discussing dropping Dhoni as ODI captain, while also revealing the current leadership of Virat Kohli and Anil Kumble had spoken to Cheteshwar Pujara about ramping up his run rate.
Kohli would, after winning the first Test match against New Zealand, admit, Pujara had been encouraged to think positive, even in Test match cricket.
"Let me make it very clear, Sandeep, being a former chairman, should not have made these comments," Thakur told PTI. "When he was the chairman, he replied differently to the same questions.
"But after that, it was different. It was totally unethical of him to do that.
"One should refrain from making such unethical and unwanted comments in this area. It is because he has been trusted to become the chairman, because he has played enough cricket. There were four more selectors with him, they did not say anything. He should have avoided that."
Patil's tenure ended after the India squad for the New Zealand Test series was picked and the BCCI was quick to put a new panel in place, led by former wicketkeeper MSK Prasad. Prasad has been joined by Devang Gandhi, Jatin Paranjpe, Sarandeep Singh and Gagan Khoda, with eyebrows raised over the fact that not one of the new members of the panel were India regulars.
However, Thakur defended their selection by saying the BCCI could only go with the people who applied for the job, hinting that the new conflict of interest rule that the Lodha Committee has brought up has prevented the bigger names of the game from putting their names in the hat.
"First time ever, the BCCI openly invited people to apply for the selectors' job," Thakur added. "We can only appoint those who have applied.
"People are shying away from getting into the BCCI. Former cricketers who run academies and have some role in the state associations are ruled out under conflict of interest.
"What does a cricketer do after retirement if he can't contribute to the game of cricket?"