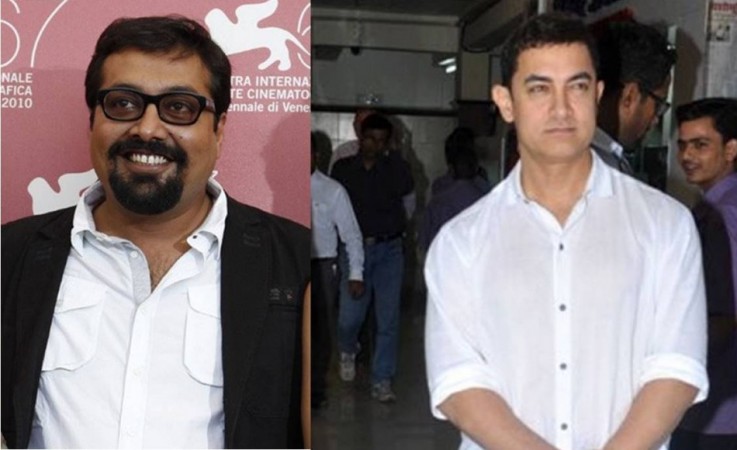 The Christmas release of Aamir Khan starrer "P.K." (Peekay) has angered "Bombay Velvet" director Anurag Kashyap.
Kashyap had earlier mentioned that "Bombay Velvet", starring Ranbir Kapoor and Anushka Sharma, is one of his most ambitious projects. He had also booked 25 December (Christmas) date for the release of his film.
Earlier, it was only "Bombay Velvet" that was supposed to release during Christmas but Khan later announced that the release of "P.K." has been postponed from 6 June to 25 December.
In January, Khan took to Twitter to reveal that he has locked his lucky date (25 December) for the release of his new film.
Hey guys, PK release date is finally locked.... this Christmas.... my lucky date!!! Jai Ho!!!

— Aamir Khan (@aamir_khan) January 20, 2014
And it has now emerged that the news of the Rajkumar Hirani directorial arriving on same day as his film has angered Kashyap.
"All it would have taken is a phone call. I heard the rumours and called Raju to tell him that if they were indeed planning a Christmas release to please let me know in advance. At that point, they said there were no such plans," Kashyap told Mumbai Mirror.
"It hurts because I respect Raju as a filmmaker and as a person. Apart from being a colleague, he is also a friend," he added.
It is a known fact that Christmas is a lucky period for Khan. Last year "Dhoom 3" was released during the period, and it created several records and became the highest grossing film ever. And even before that his superhits like "Ghajini" and "3 Idiots" were released during the Christmas Day in 2008 and 2009 respectively, with the latter going on to become the highest grosser film worldwide, till the release of "Chennai Express", "Krrish 3" and "Dhoom 3".
So when asked whether he is worried about the commercial prospects of "Bombay Velvet" being affected due to "PK", Kashyap told Mumbai Mirror: "Right now, I am focused on making a spectacular film. I'm not concerned about the marketing blitzkrieg at this point. It's obvious that both films will be affected if they release on the same day. We may sort that out at a later stage."
Hirani remained unavailable for comment. Apart from "PK" and "Bombay Velvet", John Abraham starrer "Welcome Back" is also set for the same release date.