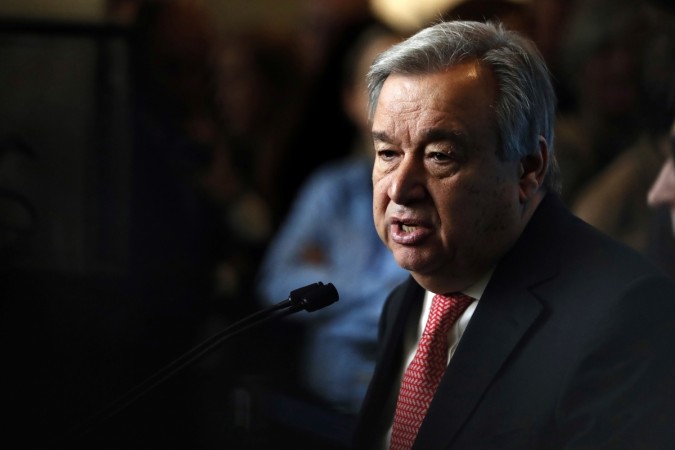 Former Portuguese Prime Minister Antonio Guterres was sworn in as the ninth United Nations Secretary-General on Monday. He pledged to personally help broker peace in various conflicts and reform the world body so that it becomes more effective.
Guterres, 67, will replace South Korea's Ban Ki-moon on January 1 2017 after Ban steps down at the end of this year. He served as secretary-general of the UN for 10 years. Guterres served as the prime minister of Portugal from 1995 to 2002 and as the UN High Commissioner for Refugees from 2005 to 2015.
"From the acute crises in Syria, Yemen, South Sudan and elsewhere, to long-running disputes including the Israeli/Palestinian conflict, we need mediation, arbitration as well as creative diplomacy... As part of my good offices I am ready to engage personally in conflict resolution where it brings added value," Guterres said in the General Assembly.
Guterres was selected to lead the world body out 12 candidates, including seven women. He said that his goal was to have gender equality among the senior leadership of the UN within his five-year term.
Guterres is likely to name Amina Mohammed, the Environment Minister of Nigeria, as his deputy secretary-general and also plans to appoint a woman as his chief of staff before the end of 2016, Reuters reported. Mohammed was Ban's special adviser on post-2015 development planning before she became environment minister in 2015.
Guterres is the first former head of a government to be elected to run the UN.
"He's looking for a big shake-up, reshuffle. He's looking to create ... a different feeling, with the under-secretary-generals much more part of a collective leadership of the UN... Having what he calls a cabinet, like when he was prime minister, his senior officials would come together every week and collectively they would have responsibility for the totality of the organization," a senior UN diplomat told Reuters.
It remains to be seen who Guterres will appoint to other senior UN positions amid speculations that China wants one of its nationals to head peacekeeping while Russia too wishes to have a senior position.