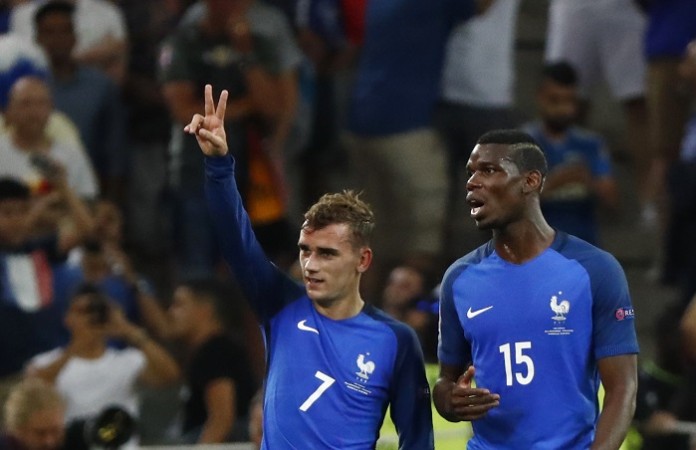 Antoine Griezmann, for many, would be an ideal player for the Premier League, and while the Atletico Madrid forward might not be moving to England anytime soon, he does believe his France international teammate Paul Pogba is perfect for Manchester United.
Pogba completed a world record move from Juventus to Manchester United this summer, and with big transfer fees comes great expectations. That means there will be added pressure on the midfielder to make an immediate impact, and while he made a decent impression in his first match on return, Griezmann has no doubts Pogba is made for the big stage, and the big Manchester United stage at that, under Jose Mourinho.
"He loves that league," Griezmann told The Guardian in an interview while talking about Pogba. "Manchester is the perfect club for him. With Mourinho they are making something new.
"I think the supporters in England won't be disappointed. They can expect the spectacular from Paul. He deserves it. He works hard and has the talent to be such an important player."
Talent is something that Griezmann possesses in spades as well, as he showed in Euro 2016, when he ended up with the Golden Boot. While his France team might have suffered heartbreak in the final, Griezmann showed he is in that rung below the right-now-uncatchable level of Lionel Messi and Cristiano Ronaldo.
When you are that good, interest from clubs are natural, and with the Premier League flush with cash at the moment, there were several rumours of a possible transfer to England. Arsenal and Chelsea were linked with a move, but Griezmann is happy at Atletico Madrid at the moment, even if he hasn't ruled out a move to the EPL in the future.
"Yes, why not? If I am out of contract with Atletico I would ask myself that question," the 25-year-old, whose current deal with Atletico runs until 2021, added.
While the likes of Chelsea and Arsenal will welcome Griezmann with open arms if he does decide to make that move to England, Manchester United would be a nice fit as well, considering he grew up admiring a certain club great who goes by the name of David Beckham.
"I liked him a lot," Griezmann said of Beckham. "He was my idol. That's why I wear a long-sleeved jersey and wear the No.7."