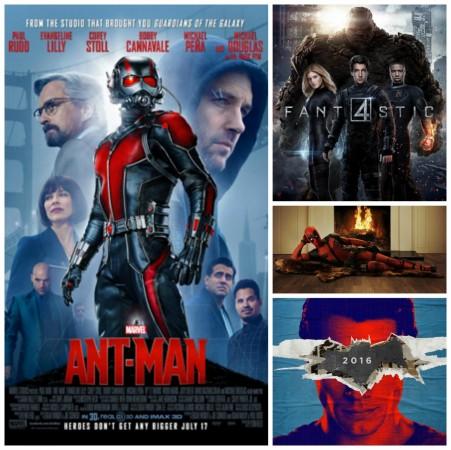 Superhero movies have always done well at the box office; unless they are epically bad. Especially in recent times, movies like "Avengers" and "Batman" have opened the gates of DC and Marvel universe to film enthusiasts who may not have been predominantly comic book fans. The fan-base for superhero movies are expanding at a fast pace, and to meet their demands, competitors Marvel and DC have panned out a huge line-up of big budget movies for the next five years.
Here is a list of all Superhero movies that will be released in the 2015-2017 time span:
Ant-Man (17 July 2015), MARVEL
Starring Paul Rudd as the titular "Ant-Man" aka Scott Lang, the upcoming movie is expected to bring on a quirky humour to the story. This is the first time the tiny superhero will be brought to life on big screen.
Fantastic Four (7 August 2015), MARVEL
Starring young actors Miles Teller, Michael B Jordan, Kate Mara and Jamie Bell as the Mister Fantastic, Human Torch, Invisible Woman and The Thing respectively, "Fantastic Four" is expected to take a dark take on the story. The story of the "Fantastic Four" was shown with a touch of light-hearted comedy in the 2005 movie of the same name, and then again in "Rise of the Silver Surfer" in 2007.
Deadpool (12 February 2016), MARVEL
Deadpool is among the Marvel superheroes, that has a dark and twisted sense of humour, which fans hope Ryan Reynolds will be able to portray on big screen. Brought to the theatres by 20th Century Fox, "Deadpool" will be the first stand-alone film that the character is getting, although Renolds has appeared as the character in "X-Men Origins: Wolverine".
Batman V Superman: Dawn of Justice (25 March 2016) DC COMICS
Two beloved DC superheroes will be seen battling each other in the upcoming movie, wherein Henry Cavill will reprise his role as Superman while Ben Affleck will don the dark mask for the first time. One of the most anticipated aspects of the movie is Jesse Eisenberg's Lex Luthor.
Captain America: Civil War (6 May 2016) MARVEL
The third instalment of Marvel Cinematic Universe's "Captain America" series, "Civil War", is said to bring together several superheroes, including Iron Man, Ant Man, Falcon, Black Widow, Winter Soldier, Hawkeye, War Machine, Scarlet Witch and Black Panther.
X-Men Apocalypse (17 May 2016) MARVEL
The ninth instalment in the "X-Men" film series, "Apocalypse" will bring back many old cast members, and add new ones. James McAvoy, Michael Fassbender, Jennifer Lawrence, Nicholas Hoult, Oscar Isaac, Rose Byrne, Sophie Turner, Evan Peters, Lucas Till, Ben Hardy, Lana Condor, Olivia Munn and Hugh Jackman are a few among the huge ensemble cast in the upcoming movie.
Teenage Mutant Ninja Turtles II: Half Shell (3 June 2016) Mirage Studios
The action-comedy film has high expectations from fans, especially because the first instalment of the film, which was released in 2014, was a phenomenal success. In the upcoming movie CW's "Arrow" Stephen Amell has been cast as Casey Jones, a vigilante.
Suicide Squad (5 August 2016) DC COMICS
The super-villain collective of DC Comics is a guaranteed success with the kind of spotlight it is already getting. Almost every reveal, leak and speculation of the movie goes viral in a matter of hours, and almost every fan is enthusiastic about seeing Jared Leto's take on the Joker.
Gambit (7 October 2016) MARVEL
20th Century Fox has been quite hush-hush about the X-Man mutant's stand-alone movie. All we know so far about "Gambit" is that "Magic Mike" Channing Tatum will play the mutant, but will not appear in the "X-Man: Apocalypse" movie.
Doctor Strange (4 November 2016) MARVEL
Although Tom Hardy and Joaquin Phoenix were short-listed for the role of the narcissistic neurosurgeon with magical powers, the role finally went to Bendict Cumberbatch. Stephen Strange's adversary Baron Mordo will be played by Chiwetel Ejiofor.