Home Minister Rajnath Singh has hinted that 'something big' has happened across the Indo-Pakistan border a few days ago. He made these comments while addressing a gathering on the second anniversary of the surgical strike carried out by the Indian army. The day is observed as Parakram Parv.
Singh said this comments in Muzaffarnagar after unveiling Bhagat Singh's statue. He said, "Kuchh hua hai, main bataunga nahin. Theek thaak hua hai. Vishwas rakhna theek thaak hua hai do teen din pehle. Aur aage bhi dekhiyega kya hoga," reports News18.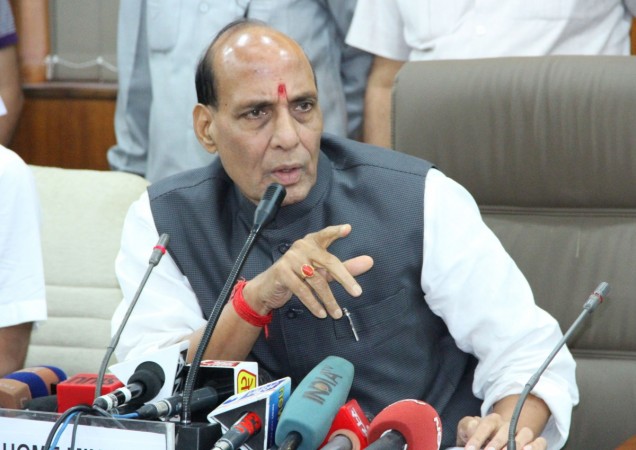 Singh was talking about BSF Head Constable Narendra Singh's murder across the border in Pakistan recently.
Head Constable Singh was shot earlier this month. His body was dragged across the border to the other side where his throat was slit and according to PTI, his eyes were also gouged out.
Border Security Force Director General K K Sharma said that this attack was the work of Pakistan BAT (Border Action Team) Force. He said, "Based on our investigation, we can say that head constable Narendra Singh was brutally murdered and mutilated by the Pakistani Border Action team...Singh was killed by a Pakistani bullet, then his body was dragged to that side of the border and an attempt was made to slit his throat. Singh's killing was a very unfortunate incident. But, it was very important for us to retrieve his body first before doing anything. So far, the BAT action was limited to the LoC. But, it's the first time that such an incident has taken place on the International Border too," according to the Kashmir Times.
Home Minister Singh further added that he had requested the BSF not to fire since Pakistan was 'our neighbour'. However, after the attack on Narendra Singh, he told the army to retaliate. "Lekin ek bhi goli agar udhar se chal jaati hai to phir apni goliyon ko matt gin'na," according to News18.