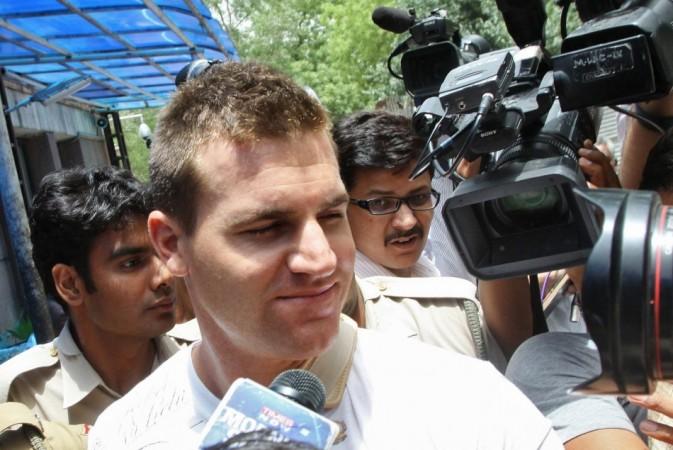 In a latest development in the ongoing IPL molestation scandal, the police have identified another RCB player who was with accused Australian cricketer Luke Pomersbach based on the hotel CCTV footage obtained.
The police have found KP Appanna, a left-half spinner from Karnataka and RCB player, as the Indian player who accompanied Pomersbach to Zohal Hamid's hotel room . They said that the CCTV footage shows Appanna returning with Pomersbach to Zohal's hotel room, who accused Pomersbach of physically harassing her and beating her fiance.
The officials speculated that the players went there to convince the victim to withdraw her complaint.
Describing another person along with Luke as "skinny guy", Zohal Hamid said: "This skinny Indian guy kept following me back and forth, while I was rushing around inside the hospital. I screamed at him, 'Leave me alone' but he would not let me go and kept following me."
He told me, "Withdraw the case. It's not going to take you anywhere."
Hamid is said to have named five people in her complaint for threatening her.
Apart from this, media reports said that the Delhi Commission for Women is likely to send notice to the RCB team director and liquor baron Vijay Mallya's son, Sidhartha Mallya , based on Hamid's complaint.
Earlier on Friday, Sidhartha Mallya posted a message questioning the character of Zohal on his twitter page.
"The girl who is accusing Luke is saying he hit her 'fiance'... what a load of f****** s***. She was all over me last night and asked for my bbm (blackberry messenger) pin, so if he was her fiance she wasn't exactly behaving like a future wife," he tweeted.
Hamid moved the women's commission, while serving a legal notice to Mallya asking him to apologize over his alleged derogatory comments on her, which shed a bad light on her character. However, so far there has been no response from him.
Hamid has warned junior Mallya that she will drag him to the court if he failed to apologize for his comments about her.
Luke Pomersbach was arrested on Friday following Zohal's complaint and a case was registered against him under various sections of IPC including section 354 of IPC (outraging modesty of woman), 323 (hurt), 454 (lurking house trespass) and 511 (Punishment for attempting to commit offences punishable with imprisonment for life or other imprisonment).
A Patiala House Court later granted him bail and asked him to surrender his passport, which means the Australian will not be able to leave India unless he comes out clean in the case.