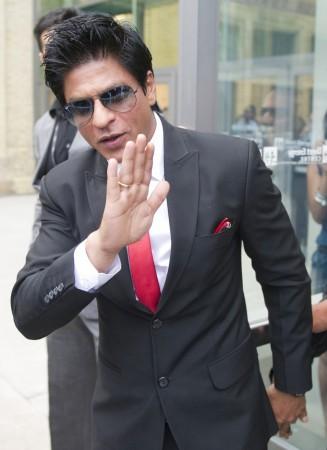 Shah Rukh's alleged scuffle with security and officials at a cricket event on Wednesday has evoked the Mumbai Cricket Association (MCA) to impose a lifetime ban that prevents the Bollywood hotshot from entering a Mumbai stadium.
The incident reportedly took place at the gates of Wankhede Stadium, when SRK was stopped by security officials from entering the cricket grounds. It was alleged that the actor was drunk and had misbehaved with personnel for having been refused entry into the stadium after the Kolkata Night Riders-Mumbai Indians match. MCA officials have reportedly filed a case against him and are pushing for a ban on the actor from any future appearances at the stadium, IBN Live said.
"The MCA security personnel told them they cannot do so (enter the ground) as the match was over which led to Shahrukh abusing them as well as the MCA officials. There was manhandling too by his people. We have decided to ban him from all future matches at the stadium. We are also going to lodge a police complaint against him," MCA Treasure Ravi Savant said.
Savant added that IPL CEO Sundar Raman and BCCI's media manager Devendra Prabhudesai were around when the brawl took place and that a complaint will be lodged with the BCCI over the actor's misconduct. The Bollywood hotshot was even reported to have misbehaved and hurled abused at Vilasrao Deshmukh, the president of the MCA, the report said.
The KKR co-owner's behavior will soon be under investigation with Ravi Sawani, Anti-Corruption in-charge, roped in to lead the enquiry, it was reported. "We will conduct an enquiry. Statements and footage will be seen," ACP Iqbal Sheikh was reported to have said.
IPL Chairman Rajiv Shukla said the decision to impose the ban on SRK is not yet finalized. "I will take the version of the MCA, Shah Rukh Khan and the police before talking about the issue," Shukla said in a statement according to Business Standard. "The decision on ban is taken by the Working Committee so I will speak to MCA President Vilasrao Deshmukh on this. I have to take the version of all the parties involved and then speak," he added.
According to a report on Times of India, it was the security officials who irked SRK with their rude behavior and provoked him into an argument with them. The actor was reportedly not available for a comment.
Latest news feed said that the decision on the ban will be revealed Thursday evening.
King Khan has time and time again been at the centre of controversies. The actor just recently had to face public displeasure after pictures and footage of him smoking at the Sawai Man Singh Stadium were broadcast live on television. A case was thereafter filed on him for violation of the law which bans smoking in public.