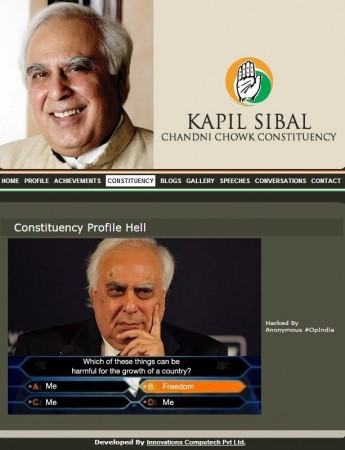 Internet vigilante group Anonymous OpsIndia appears to have hacked the official website of Minister of Communications and Information Technology Kapil Sibal.
The hacker group claimed responsibility for the website break-in on Twitter.
"http://kapilsibalmp.com #Defaced Emptied IT Act #66A #opindia" Anonymous India tweeted early Friday.
"Kapil Sibal's site is getting trolled links to come up soon. IT Act #66A."
Kapil Sibal has even blogged about us: http://kapilsibalmp.com/Blogdetail.aspx?BID=2 ... #Deface", the notorious group added. The link to the site is apparently down as of now.
On Friday, the group defaced several of the website's pages including the home page, achievement page, constituency page and blogs, with write ups containing foul language to protest against Section 66A of the IT Act.
The hackers have also placed a photo in the constituency page portraying Sibal as a participant of a quiz show with a question: "Which of these things can be harmful for the growth of a country".
The home page now reads as: "He somehow formed the rules in such a way, that everyone can censor everyone there by hiding behind everyone to be able to censor what really hurt him and his party. confusing isnt it?"
Anonymous OpsIndia claims to be a civil-disobedience and non-cooperation cyber movement against corruption in the country. The hacker group had earlier defaced several government websites and other private organisations through Distributed Denial of Service Attack (DDoS).