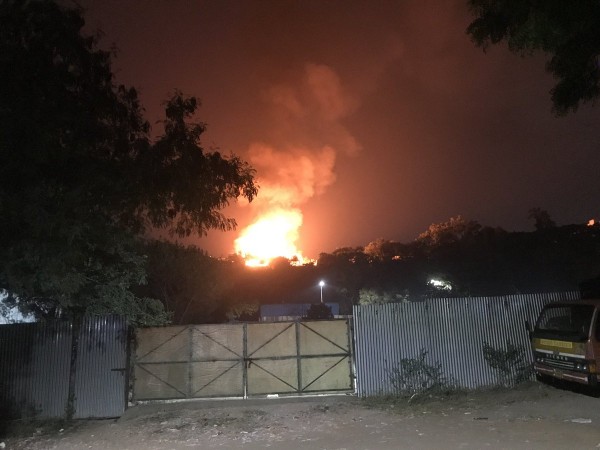 A fire broke out at Annapurna Studios in Hyderabad when a group of students of Annapurna film school were reportedly trying to assemble electric cables for shooting a short film on Monday.
Soon after learning about the mishap, Tollywood actor Nagarjuna, who owns the studios, rushed to the spot in Banjara Hills. Early reports suggested that sets worth Rs 12 crore got damaged.
It is yet to be found out what exactly caused the fire accident while some reports suggest it was due to short circuit. Some students from the Annapurna film school were shooting a short film in the Studio. While they were assembling of electric cables, the fire was erupted due to short circuit, according to 123Telugu.
It is reported nearly eight movie sets gutted including that of Manam and Sye Raa Narasimha Reddy. Fortunately, all the students fled the spot as soon as the fire engulfed the entire set and there are no casualties or deaths. But the expensive solar panels that were installed on the terrace of the sets were severely damaged, resulting in a huge loss of around Rs 1 crore.
Addressing the media, Nagarjuna said, "None is hurt and not even a small injury is caused to anybody. But what bothers me the most is that it is my most favourite place as the set was created for my father ANR's last movie Manam. I used to remember him and feel his presence, whenever I visited this set. He had spent his last days and last moments on this set."
"But I'm very happy that none is hurt and after all, it is a set. When there is no guarantee of life itself, we need not worry about the set. Media has co-operated with us when such a big accident happened. I would like to thank all media men for your support," added Nagarjuna.
When quizzed what caused the fire accident, Nagarjuna said, "Nothing is clear as of now and even I don't know the cause of fire. Like you, I am also here and trying to find out the reason. But I am yet to find information about it."
In 1975, Annapurna Studios was established by legendary actor ANR aka Akkineni Nageswara Rao, who named it after his wife Annapurna Akkineni. Today, it is one of the India's leading production and distribution companies and several big ticket movies including Baahubali have been shot in the Studios.
The news about the fire accident at Annapurna Studios came as a rude shock for many people in the industry as well as filmgoers. Below, check the photos and videos of the fire mishap.