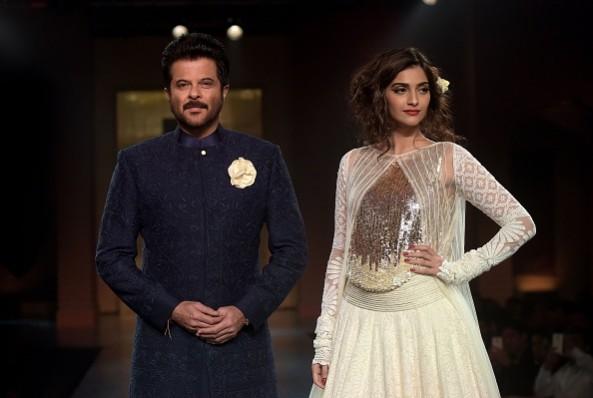 Sonam Kapoor is now one of the fittest Bollywood actresses, but there was a time when the diva was not as fit, back when she used to weigh 86 kilos during her teenage years. Anil Kapoor recently opened up about the struggles his daughter faced when she was overweight.
The veteran actor narrated how he used to feel bad to see Sonam Kapoor struggling with body image issues when she used to visit home from Singapore, where she was studying. Speaking to Mid-Day, Anil Kapoor said:
Those three-four years were traumatic for her and when she returned home, I was shocked. The way she walked, the agony of climbing stairs, the misery on her face, broke my heart.
He also revealed that Sonam had faced a lot of criticism for her weight, but he realised the extent of her agony only recently.
Anil found out about the actual struggle Sonam had endured since the age of 13 when she revealed in an interview that she used to spend hours in front of the mirror, scrutinising herself, and getting disappointed.
However, Sonam has always been "flawless" for the doting father.
To be honest, I could not have imagined Sonam's deep concerns with her appearance, because to me she has always been flawless.
Nonetheless, the Neerja actress fought back, and followed a strict diet along with regular work-out for one whole year, during which she lost 35 kgs, the report added. Anil also said that despite being totally fit now, Sonam still suffers from body insecurity as even a little criticism hurts her self-respect.
However, according to the 61-year-old actor, the true beauty of a person should be judged through his or her personality rather than physicality.
Sonam has always been perfect and flawless in my eyes and I couldn't be happier that she is healthy and content with herself today. When it comes to beauty, we really need to shift the focus from physicality to personality. Women who are smart, intelligent, empathetic, determined and accomplished are beautiful. And that is the kind of beautiful Sonam is.
Anil will next be seen in the film Fanney Khan that will present him as the father of a young girl, who faces a lot of body-shaming for being overweight