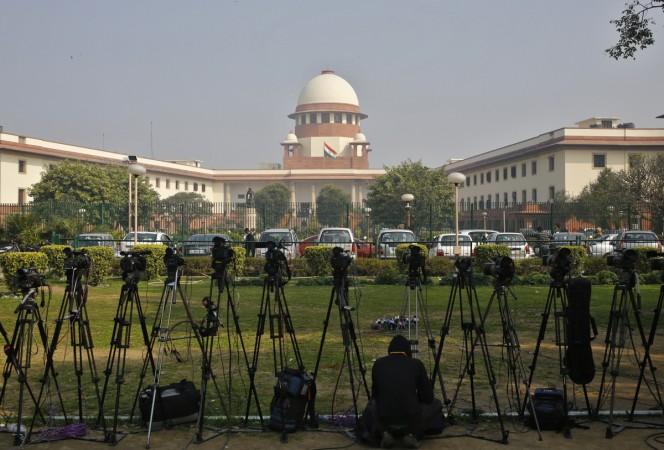 Anil Ambani's debt-ridden Reliance Communications (RCom) has gotten a breather with the Supreme Court allowing it to furnish a corporate guarantee worth Rs 1,400 crore for transferring its telecom spectrum to Reliance Jio, news reports say.
Department of Telecommunication (DoT) had sought bank guarantee worth Rs 2,950 crore against the outstanding spectrum charges that RCom owed it.
RCom petitioned the court that the insistence on a bank guarantee was threatening an assets sale deal of the company to Mukesh Ambani's Reliance Jio.
The top court said the corporate guarantee would be in addition to the land parcel, which the company would provide as security, as the Telecom Disputes Settlement and Appellate Tribunal had ordered.
RCom's deal with Reliance Jio seeks to monetise the loss-making company's assets including the spectrum, telecom towers and optical fibre. This deal is expected to shave off Rs 25,000 crore from the company's total debt amounting to Rs 45,000 crore. The court has given RCom two days to furnish the guarantee on which DoT will have to grant RCom the approval for the spectrum sale in one week's time.
RCom will receive from Jio Rs 18,000 crore in cash and Rs 7,000 crore will go to meet deferred spectrum liabilities. RCom owes Ericsson Rs 550 crore which is due by December 15 beyond which the Swedish company can restart insolvency proceedings against RCom, sources say.
Outstanding dues
Additional solicitor general PS Narasimha on Friday opposed the proposal to furnish land parcels as collateral, pointing out that these did not belong to RCom, Financial Express reported.
The government took the view that the October 2015 guidelines for the trading of spectrum made it mandatory upon the government to secure outstanding dues only by bank guarantees and nothing else, the report said.
"There is no precedent for Union of India accepting land/buildings as security towards the unpaid dues... the land provides no such securitisation and cannot be monetised on demand... Undertaking not to alienate property worth Rs1,400 crore is not in compliance of trading guidelines," the government said in its appeal.
Ericsson had signed a seven-year deal in 2014 to operate and manage RCom's nationwide telecom network. After RCom failed to pay for its supplies procured from Ericsson, the latter initiated insolvency proceedings against it before the National Company Law Tribunal to recover Rs 1,150 crore. Subsequently, the two parties made an out-of-court settlement by which RCom was required to pay Rs 550 crore, the newspaper said.