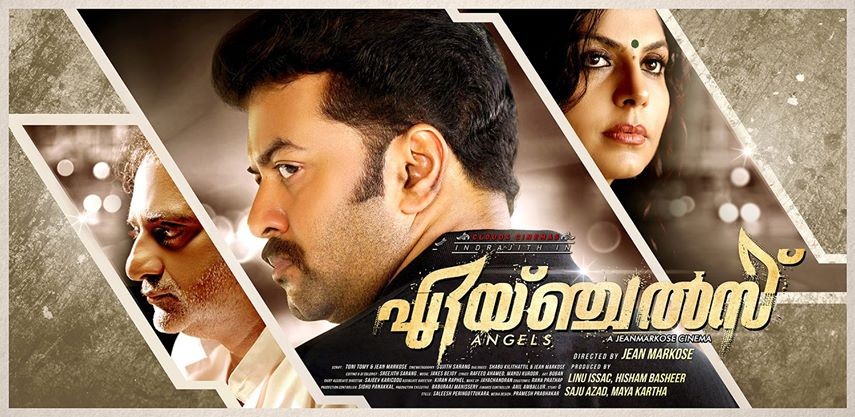 Malayalam film "Angels" which hit screens on 28 November has opened to positive reviews. The film, which stars Indrajith, Asha Sharath and Joy Mathew in pivotal roles and has been directed by debutant Jean Markose, has been labelled as an investigative social thriller.
Most of the critics felt the film is worth a watch and the debutant director has given out a decent film. "Angels" was appreciated for the performance of the actors and its technical qualities. Most of the critics remarked that the film would have been more impressive if the script of the movie was crisper.
The story revolves around Hameem Haider (Indrajith), who is a brilliant and smart police officer in the Special Armed Police Department. At the same time, he is an egoistic person and is thrown out of a case, which he was investigating because of high profile external pressure. He gets offended by his seniors' move and decides to take a revenge on those who were behind his ouster.
Meanwhile, one of his previous investigations becomes the focus of a reality crime show "The Third Eye" and the anchor of this show is Haritha Menon (Asha Sharath). Haider's investigation sees a twist when father Varghese Punyalan (Joy Mathew) turns up on the show and makes some startling revelations.
The scripting of "Angels" has jointly been penned by Tony Tomy and director Jean, and the dialogues are by Shabu Kilithattil and Jean. The cinematography is handled by Sijith Sarang.
The film's music is composed by Jakes Bejoy and the lyrics are written by Rafeeq Ahammed and Manoj Kuroor.
"Angels" is produced by Linu Isaac, Hisham Basheer, Saju Azad and Maya Kartha under the banner of Cloud 4 Cinemas.
Here are the reviews of 'Angels" by various critics
"Direction of debutant Jean Markose was impressive as he really succeeded to hold the audience to their seats to the end. The cinematography by Sujith Sarang was superb as it created the mood of the film very well with its colour tone and angles. The other notable technical part was the crisp editing by Sreejith Sarang which helped the film move forward in a good pace without any lagging in the main parts of the film. Songs and Background scoring by Jekes Bejoy also was up to the mark as it really served great and went along smoothly with the theme and narration style of the movie" – Onlookersmedia
"With the available materials the director has managed to conceive a thriller which is slick for most parts. But Jean Markose could have packed a punch in the climax. The motive of the crime has an eerie resemblance to some crime related movies released recently and an unconvincing antagonist doesnt add any value to the movie. Indrajith, Asha Sharath and Joy Mathew share bulk of the screen time. And they have given a very good account of themselves, though there is nothing knocks out about their performances. Baiju, Prem Prakash and the rest of the cast are decent as well." - Metromatinee
"As so many recent movies, Indrajith made his presence on screen nicely. But as Hameem Haider, Indrajith did not had a meaty role to play. Asha Sharath as a TV anchor Haritha Menon wasgood in her role and Joy Mathew as the priest (named Brandhan Kathanaae) did his role nicely. And all the supporting casts like Baiju as SP Ashok Kumar, Prem Prakash as Head of Production, Vijaykumar as Inspector Poly, Lakshmi Priya Chandramoulu as Zaina, Parvathy Menon, Dinesh Panicker, Aneesh G Menon, Baby Anni, Tharakalyan all are good and perfectly hold the suspense till end." – Futurecreater.in