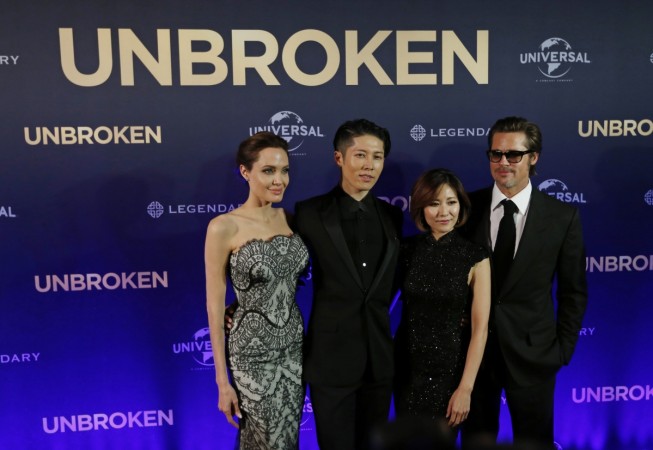 Angelina Jolie's World War II drama "Unbroken" has come under fire from Japanese nationalists who have launched an online petition to ban the movie in their country.
The nationalist group says that it is not fair to show their soldiers abusing prisoners of war and also labelled the film's director – Angelina Jolie – a racist.
The Japanese nationalists have taken offence to the contents of the movie and have set up a petition on Change.org. According to 3 News, they are demanding that distribution of the film be stopped in the Asian country as it is "contradictory to the facts". The petition h as already got 8000 signatures.
"Unbroken" is the biopic of Olympic runner Louis Zamperini and it reportedly depicts the torture he went through when he was at a Japanese prison camp. After a plane crash during WWII, Zamperini spent 47 days in the Pacific Ocean before Japanese authorities captured him and sent him to a labour camp for more than two years.
The film includes sequences such as Zamperini being subjected to beatings at the hands of an imperial officer – Mutsuhiro Watanabe.
In fact, according to the biography, once Watanabe forced him to hold a heavy block of wood over his head for around 37 minutes and then he punched the malnourished and weak Zamperini in the stomach.
What has infuriated the Japanese nationalists the most is the description of POWs being "beaten, burned, stabbed or clubbed to death, shot, beheaded, killed during medical experiments or eaten alive in ritual acts of cannibalism".
"It's pure fabrication. If there is no verification of the things he said, then anyone can make such claims," Hiromichi Moteki, the secretary general of the Society for the Dissemination of Historical Fact, told the Telegraph. "This movie has no credibility and is immoral," he added.
The objectionable scenes are based on Laura Hillenbrand's biography with the same title. It is supposed to be Zamperini's own account of his experience in the foreign land.