Angelina Jolie's health remained a concern to her fans after she announced her decision to end her marriage with Brad Pitt in September 2016. The Tomb Raider movie actress is currently busy with multiple projects and her ongoing custody battle with Brad Pitt. Recently a news surfaced that allegedly suggested that due to the stress of her custody battle, Angelina Jolie now weights only 73 pounds. However, the fact-checking website, Gossip Cop debunk the absurd claims.
As per a recent report, Angelina Jolie's health is currently deteriorating as she faces custody battle with Brad Pitt over their six children.
"Angie is worryingly thin and none of her clothes fit properly. She's now wearing Shiloh and Zahara's tops and sweaters, even their jeans," an alleged insider revealed. "When she buys them clothes, she'll grab a bunch of the junior sizes for herself too. She's losing weight at a drastic rate."
The supposed source went on to add that Angelina Jolie repeatedly "restricts what she eats to the point of starving herself." Not only this, these days her diet usually consists of only crushed ice and "nibble on a piece of pretzel."
"She'll buy the kids ice cream and get a cup for herself but just swirl it around and not actually eat it. There's no way she's getting the nutrients she needs to maintain a healthy balance."
Amid these rumours, Gossip Cop debunked the claims and pointed out that last month only, Angelina was photographed getting sushi in Los Angeles. She was joined by her kids Shiloh and Maddox and was looking happy and healthy.
Apparently, this is not the first time when dubious reports have surfaced about Angelina Jolie's health. Prior to these recent claims, a source revealed to a magazine that Jolie has stopped eating and is on the verge of collapsing. Amidst the ongoing custody battle with Brad Pitt, the actress is a physical wreck, added the insider.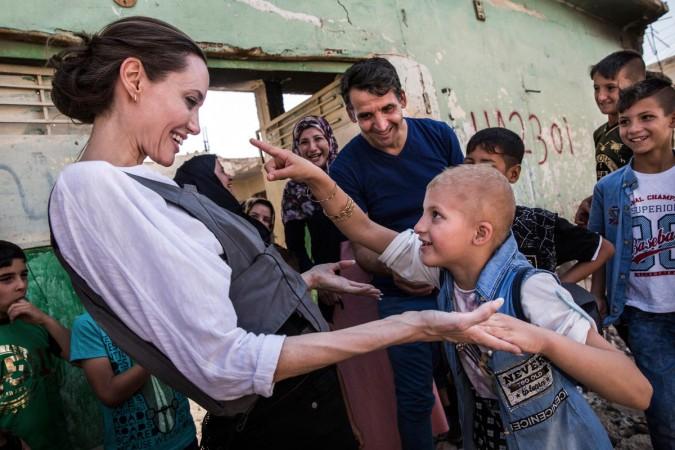 As always, Gossip Cop debunked the claims and stated that there is no truth in the story. In the recent months, the actress was photographed multiple times while she spent some quality time with her six children, and in every picture, she looked absolutely fine.
After her separation from Brad Pitt, Angelina Jolie stayed focused on taking good care of her and her children's health. On the work front, she recently wrapped the filming of Maleficent 2 in London and is currently busy filming Come Away.