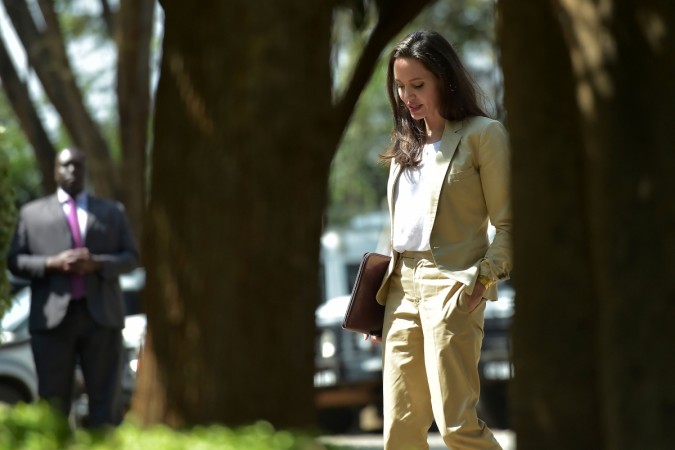 After two years of battle, Brad Pitt and Angelina Jolie have finally reached a custody agreement. Their divorce proceedings are still underway and will take some more time before Brad and Angelina will be able to finalize their divorce. A recent report, however, allegedly claimed that Angelina suffered from a dramatic meltdown after she reached a custody agreement with Brad. The bogus claim was soon debunked by a fact-checking website.
It was earlier reported that Brad Pitt and Angelina Jolie have decided to come on terms with each other and has finally agreed to settle their differences to end their long custody battle. As of now, it is not revealed what are the terms of their agreement but many are hoping that they have agreed to have some sort of legal joint custody.
When the report surfaced, an insider close to Angelina Jolie revealed that after settling the custody battle, she is apparently relieved adding that the actress "is pleased to be entering the next stage and is relieved with the progress for the health of the family."
However, as per a report by Woman's Day Australia, the Academy Award-winning actress is not doing good after signing the documents with Brad Pitt and allegedly suffered something of an emotional collapse.
"There was a lot of angry crying, then a lot of sleeping. It's as though she was holding herself together by a thread this whole time, and when they finally signed off, she was free to have her meltdown," the alleged insider revealed.
The insider went on to claim that Angelina has been only consuming black coffee and eating very little from her kids' food since her split with Brad Pitt. In addition to this, the alleged insider added that the Changeling movie actress has locked herself inside her Los Angeles home.
As per Gossip Cop, there is nothing accurate about these claims. The Gia movie actress was recently spotted smiling while shopping with her kids in Los Angeles. The actress seemed full of holiday celebration as she smiled. Despite the bogus claim, Angelina Jolie did not have any breakdown whatsoever. At the same, the fact-checking website is assured that the story is false.