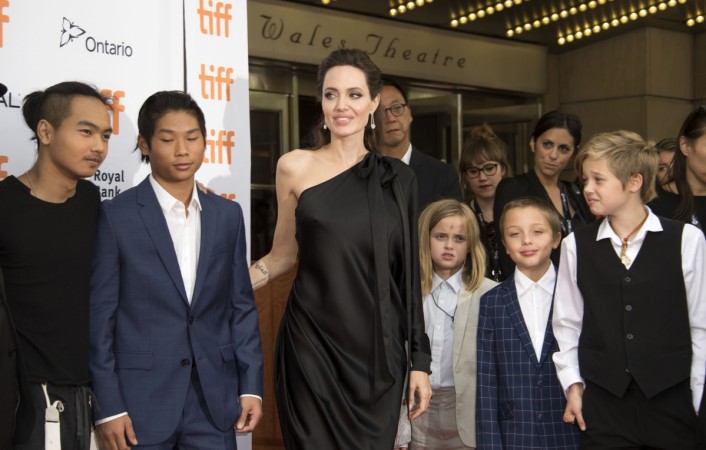 The Holiday season is right around the corner. Kick-starting the year-end festivities, celebrities are gearing for Thanksgiving 2017, which takes place on November 23 this year. Like every other celebrity, Brad Pitt and Angelina Jolie are seeking to spend with their kids.
However, who will get to spend time with Maddox, 16, Pax, 13, Zahara, 12, Shiloh, 11, and nine-year-old twins Knox and Vivienne on the occasion is apparently a big question. A new report claims the estranged couple are fighting for the custody of the children this Thanksgiving.
Also Read: Forget Brangelina, Brad Pitt and Jennifer Aniston to reunite?
According to Life & Style magazine, Pitt is "looking forward to taking a break" from work and "spending time with his six kids on Thanksgiving," but "that is plan is highly unlikely" due to his unresolved issues with Jolie.
"They've become embroiled in a battle over who gets to see the children during the holidays," said the publication.
The tabloid revealed that the fight began when Jolie sent Pitt an invitation to spend the occasion with her and the children. "[Jolie] initially invited Brad to her house to spend [Thanksgiving] afternoon with the kids," an insider said.
However, Pitt was "wary" about the invite as he "doesn't trust Angelina," so, "wanting to avoid a scene, Brad declined the Thanksgiving invite, instead asking if the kids could spend part of the day with him," the report said.
The younger children insisted on spending the night at his place. So Pitt began planning for it. However, the insider revealed that Jolie's assistant called Pitt to inform his that "none of the kids will be going to his house on Thanksgiving."
Brad "feels Angie isn't ready to let go", said the insider. And how did he react? The informant said he "just wished her a Happy Thanksgiving and hung up."
"Fight back and get angry every time she pulls a stunt, which would only impact the kids, or handle it like a mature adult. If that means he won't see the kids as much or at the holidays, he has made peace with it," the insider explained.
That's heartbreaking! But has the drama ended there? Will Jolie let go easily? Fans will have to wait and see who the kids will spend the holiday with.